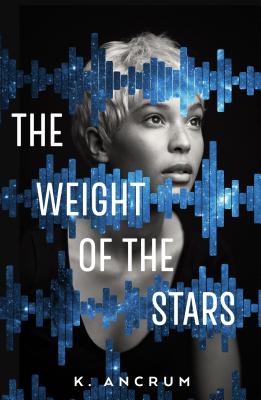 The Weight of the Stars
Publication Date:
March 17th, 2020
The MIT Press Bookstore
2 on hand, as of Nov 29 10:27am
(JR:YA)
On Our Shelves Now
Description
A vivid, evocative YA lesbian romance about how the universe is full of second chances
Ryann Bird dreams of traveling across the stars. But a career in space isn't an option for a girl who lives in a trailer park on the "wrong" side of town. So Ryann becomes her circumstances and settles for acting out and skipping school to hang out with her delinquent friends.
One day she meets Alexandria: a furious loner who spurns Ryann's offer of friendship. After a horrific accident leaves Alexandria with a broken arm, the girls are brought together despite themselves—and Ryann learns her secret: Alexandria's mother is an astronaut who volunteered for a one-way trip to the edge of the solar system.
Every night without fail, Alexandria waits to catch radio signals from her mother. And now it's up to Ryann to lift her onto the roof day after day until the silence between them grows into friendship, and eventually something more.
The Weight of the Stars is the new LGBT young adult romance from K. Ancrum, written with the same style of short, micro-fiction chapters and immediacy that garnered acclaim for her debut, The Wicker King.
An Imprint Book

"The Weight of the Stars is one of the most gentle, gracious, and, overall, kind books that I've read all year ... It's a YA romance about girls and stars and friendship and mercy and loss and regret and what we owe each other and what we give away to lift each other up ... This book is starlight on broken concrete, it's flowers on a broken rooftop, and it's a masterpiece." —Seanan McGuire, New York Times bestselling author of Every Heart a Doorway
"Touches on sexual identity, friendship, nontraditional families, and the price of human space exploration. The characters' resilience and vulnerability are deftly handled ... For readers who are drawn to the unconventional, this will be a satisfying read." —Kirkus Reviews

Praise for The Weight of the Stars
"The Weight of the Stars is one of the most gentle, gracious, and, overall, kind books that I've read all year ... It's a YA romance about girls and stars and friendship and mercy and loss and regret and what we owe each other and what we give away to lift each other up ... This book is starlight on broken concrete, it's flowers on a broken rooftop, and it's a masterpiece." —Seanan McGuire, New York Times bestselling author of Every Heart a Doorway

"As bright as it is stellar ... a story with a lush, dark atmosphere; heartbreaking circumstances; bright, new love that blossoms from ugliness; and vividly real, magnetic characters." —Booklist (starred review)
"Touches on sexual identity, friendship, nontraditional families, and the price of human space exploration. The characters' resilience and vulnerability are deftly handled ... For readers who are drawn to the unconventional, this will be a satisfying read." —Kirkus Reviews

"Their slow-burn romance ... is sweetly, devastatingly understated." - Bulletin of the Center for Children's Books

Praise for The Wicker King:
"Ancrum delves into the blurry space between reality and madness. A haunting and provocative read that will keep teens riveted." —School Library Journal
"Teen fans of moody psychological horror will be entranced." —Booklist
"Give this to readers who like complex, experimental fictions about intense relationships that acquire mythic resonance." —The Bulletin of the Center for Children's Books
"An eerie piece of realistic fiction whose characters revel in intense emotions." —Kirkus Reviews
"An eerie and mesmerizing thriller that questions the space where reality and perception overlap, The Wicker King is a spine-tingling read that will have you riveted." —Caleb Roerhrig, author of Last Seen Leaving and White Rabbit