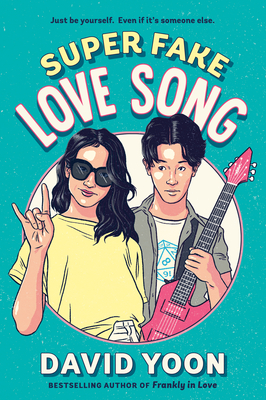 Super Fake Love Song
Publication Date:
July 13th, 2021
Publisher:
G.P. Putnam's Sons Books for Young Readers
The MIT Press Bookstore
5 on hand, as of Dec 5 4:07pm
(MKDN)
On Our Shelves Now
Description
From the New York Times bestselling author of Frankly in Love comes a young adult romantic comedy about identity and acceptance. Perfect for fans of John Green and To All the Boys I've Love Before and now in paperback!
When Sunny Dae--self-proclaimed total nerd--meets Cirrus Soh, he can't believe how cool and confident she is. So when Cirrus mistakes Sunny's older brother Gray's bedroom--with its electric guitars and rock posters--for Sunny's own, he sort of, kind of, accidentally winds up telling her he's the front man of a rock band.
Before he knows it, Sunny is knee-deep in the lie: He ropes his best friends into his scheme, begging them to form a fake band with him, and starts wearing Gray's rock-and-roll castoffs. But no way can he trick this amazing girl into thinking he's cool, right? Just when Sunny is about to come clean, Cirrus asks to see them play sometime. Gulp.
Now there's only one thing to do: Fake it till you make it.
Praise for Super Fake Love Song
Praise for Super Fake Love Song:
An Amazon Best Book of the Year
A Kirkus Reviews Best Book of the Year
A School Library Journal Best Book of the Year
A YALSA Best Fiction Pick For Young Adults
"The fun of this engrossing read (I found myself laughing out loud and admiring Yoon's wordplay) is that underneath the slapstick lies a finely nuanced meditation on how we perform as ourselves. The real surprise is how many of our perceived shortcomings are part of a self-imposed narrative... Through romance and failed romance, passion projects and fake passion projects, Sunny and the people around him learn that being true to yourself, once you figure out what the heck that is, is the most important thing of all." —The New York Times Book Review
"While this is the classic (YA at its best) story of a boy and his first high school relationship, at its heart Super Fake Love Song is also the story of an even more important relationship: the one you have with yourself. It's a big-hearted novel full of delightful, funny, empathetic characters." —NPR Book Concierge

"Sweet and funny." —PopSugar
"Brimming with nerdy humor and warm feels… the perfect rom-com to snuggle up with... an absolute delight to read! This is a funny, heartwarming story about friendship and family, and it is guaranteed to make you smile." —The Young Folks
"Don't miss this sweet rom-com about identity and belonging." —HelloGiggles
"This real-life role-playing-game YA novel addresses being true to oneself in a funny, heartfelt way…. Yoon's colorful language and careful plotting enhance an effective, meaningful story about self-acceptance." —Shelf Awareness

"[S]weet and pointed story of a nerd out of his depth….David Yoon explores the cost of toxic masculinity and the price to young adults when parents give up everything to chase the American dream." —Minneapolis Star Tribune
★ "Yoon captures the humor, the heart, and the universal anxieties—and possibilities—of trying on new identities in high school . . . A clever, hilarious, and empathetic look at diverse teens exploring authenticity, identities, and code-switching." —Kirkus Reviews, starred review
★ "Yoon's (Frankly in Love) endearingly winning coming-of-age novel . . . challenges stereotypes and tackles the age-old theme of being true to oneself, whether that self is a rock star or a nerd." —Publishers Weekly, starred review
 
★ "Readers will be drawn in by the sweet romance and Sunny's hilarious narration. But in a novel filled with excellent writing, strong characterization, and abundant positive messages, perhaps the greatest strength of all is the emotional openness of the male characters. VERDICT Yoon's sophomore follow-up to 2019's Frankly in Love is charming, witty, and inspirational. Highly recommended." —School Library Journal, starred review
"With this delectable comedy of errors, Yoon reaffirms his place in the pantheon of authors crafting smart, satisfying romantic fare for teens… [It] offers a more complex melody by mixing in running commentary on diversity, culture, and class. . . A worthy read-next for fans of Jenny Han, Nicola Yoon, and David Yoon's Frankly in Love, it's a novel that strikes all the right chords." —The Bulletin of the Center for Children's Books
"The novel is a joyful one. . . For nerds—and those who love them—this is a fitting tribute." —The Horn Book
"[Sunny's] voice, unique and wry, is gripping. Fans of Yoon's Frankly in Love—and there are legions—will enjoy this follow-up that similarly tries to reconcile romance with identity." —Booklist