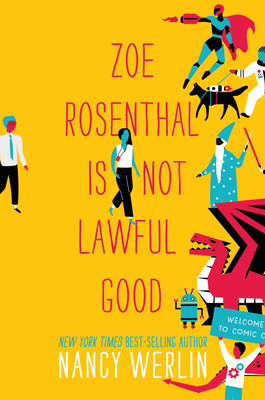 Zoe Rosenthal Is Not Lawful Good
Publication Date:
April 6th, 2021
The MIT Press Bookstore
2 on hand, as of Dec 5 4:07pm
(JR:YA)
On Our Shelves Now
Description
A buttoned-up overachiever works overtime to keep her inner nerd at bay—failing spectacularly—in Nancy Werlin's hilarious and heartfelt return to contemporary realistic fiction.
Planning is Zoe Rosenthal's superpower. She has faith in a properly organized to-do list and avoids unnecessary risks. Her mental checklist goes something like this: 1) Meet soulmate: DONE! 2) Make commitment: DONE! 3) Marriage: TO COME! (after college). She isn't sure which college yet, but it will have a strong political science department, since her perfect boyfriend, Simon, plans to "save the country," as his sister puts it, "and the planet and everything." Zoe will follow along, the perfect serious, supportive girlfriend. It's good to have her love life resolved, checked off, done. But speaking of unnecessary risks, Zoe's on a plane to Atlanta, sneaking off to Dragon Con for the second season premiere of Bleeders. The show is subject to her boyfriend's lofty scorn, but Zoe is nothing like these colorful hordes "wearing their inside on their outside." Once her flirtation with fandom is over, she will get back to the important business of planning a future with Simon. The trouble is, right now, Bleeders—and her fellow "Bloodygits"—may just mean the world to her. Will a single night of nerdery be enough?
Best-selling and award-winning author Nancy Werlin is best known for science fiction, fantasy, and suspense, but here she turns her pen to realistic fiction with broad appeal. Confirmed nerds will revel in a diverse cast, zany fandoms, and cosplaying crowds, but this is for any reader seeking a smart, breezy coming-of-age story about finding your friends—and your inconvenient self.
Praise for Zoe Rosenthal Is Not Lawful Good
Zoe's journey of self-discovery is a nerdy trip through pop-culture easter eggs that will have like-minded readers smiling knowingly with each allusion...the fast-paced and enjoyable plot make this book a fun, quick read. Jewish Zoe is presumed White; secondary characters who are diverse across multiple dimensions make this book a great fit for today's teen readers. A charming story of a closet nerd realizing her full potential and finding her fandom family.
—Kirkus Reviews
A fast-paced character-driven story full of geekiness. Werlin highlights the need for racial and gender inclusivity in geek culture, demonstrating how fandoms can allow people to truly express themselves... Teens will also relate to Zoe's relationship and college search woes...a quick, fun read.
—School Library Journal
Readers in the know will delight in the abundance of pop culture name-drops and the author's clear appreciation for fans and fandoms alike, while a broader audience will enjoy watching Zoe learn to let her fan flag fly, even in the face of others' snobby derision. . . a feel-good read that will leave readers proud to be fans.
—Bulletin of the Center for Children's Books
The novel highlights the unique atmosphere of the con—a community in which "anybody belonged who wanted to be here"—and brings its attendees, in all their passionate, cosplaying glory, to life, including Zoe's friends: Sebastian, who's on the autism spectrum and who (hilariously for plot purposes) faints at the sight of blood; Cam and Liv, affable twins who are gay and nonbinary, respectively; and Meldel, an enthusiastic fanfic author and reformed bully. Their influence helps Zoe to discover her spontaneous side and imagine a different, less-scripted future for herself, in this joyful story of fandom, friendship, and finding common purpose.
—The Horn Book
Werlin (Impossible) vividly paints fandom antics, tracing Zoe's evolution during her thrilling, often hilarious trips to cons around the country. . . messages of self-discovery will resonate
—Publishers Weekly
This was a fast read that taps into the binge-watching, fan culture with which many teens will identify. The message of being your own person, while not overt, will also resonate with readers. Well-written and fast paced.
—School Library Connection