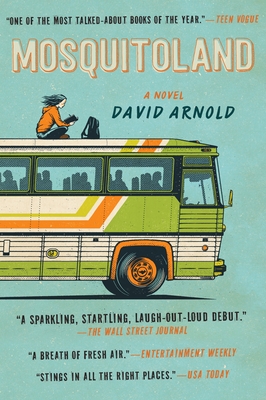 Mosquitoland
Publication Date:
March 1st, 2016
The MIT Press Bookstore
1 on hand, as of Dec 5 4:07pm
(JR:YA)
On Our Shelves Now
Description
"Top-notch" —USA Today
"Illuminating" —Washington Post
"A breath of fresh air" —Entertainment Weekly
"Memorable" —People
 
After the sudden collapse of her family, Mim Malone is dragged from her home in northern Ohio to the "wastelands" of Mississippi, where she lives in a medicated milieu with her dad and new stepmom. Before the dust has a chance to settle, she learns her mother is sick back in Cleveland.
 So she ditches her new life and hops aboard a northbound Greyhound bus to her real home and her real mother, meeting a quirky cast of fellow travelers along the way. But when her thousand-mile journey takes a few turns she could never see coming, Mim must confront her own demons, redefining her notions of love, loyalty, and what it means to be sane.
*Includes a discussion guide, exclusive author interview, and music lyrics written by David Arnold
Praise for Mosquitoland
Accolades for Mosquitoland:
"Arnold proves his worth as a top-notch storyteller on his first literary go-round, which is reminiscent of Ferris Bueller's Day Off if done by John Hughes with Jack Kerouac. . . Mosquitoland stings in all the right places, which is why it will no doubt be many teenagers' new favorite book and win over the crustiest old-timer, too." —USA Today
"David Arnold combines brio with compassion in this captivating first novel, which holds surprises, big and small, right to the end. . . Illuminating" —The Washington Post
"David Arnold's sparkling, startling, laugh-out-loud debut. . . speaks to the sweetness of life, the courage of love and the blinkers that adolescents may need to remove to see what is truly around them." —Wall Street Journal
"It's a breath of fresh air when a novel like David Arnold's Mosquitoland bucks the usual classifications and stands defiantly alone. . . like any odyssey worth embarking on, what the heroine—and the reader—finds along the way is far more interesting than we ever could have expected." —Entertainment Weekly
"Memorable" —People
"One of the most talked about books of the year" —Teen Vogue
"In Mosquitoland, David Arnold has created one of the most unique narrative voices to show up in the world of young adult fiction. I don't remember life before Mim, and I don't want to. Mosquitoland is equal parts sharp, sad, and surreal.  This book is genius, war paint and all."
—John Corey Whaley, Printz-winning author of Where Things Come Back
"David Arnold's writing is both heartfelt and hilarious. You will fall in love with Mim, even as her grand journey will keep you guessing. Mosquitoland reminds us that sometimes imperfect is just perfect."
—Ruta Sepetys, New York Times bestselling author of Between Shades of Gray
★ "Arnold pens a stunning debut, showcasing a cast of dynamic characters. . . Mesmerizing." —Kirkus, starred review
★ "Wholly enjoyable. . . There is no shortage of humor in Mim's musings, interspersed with tender scenes and a few heart-pounding surprises. Mim's triumphant evolution is well worth the journey." —Publishers Weekly, starred review
★ "Arnold boldly tackles mental illness and despair, and sexual assault and sexual identity, without ever once losing the bigheartedness of the story. . . In the words of one of Mim's Greyhound seatmates, Mosquitoland has pizazz—lots and lots of it." —Booklist, starred review
★ "Arnold's characters are captivating and believable. . . This is a very engaging and compelling story about individuals who succeed or fail to manage life's challenges. An action-packed thriller with a touch of humor and romance." —School Library Connection, starred review
★ "Arnold skillfully sets up doubts in readers' minds about how reliable Mim's impressions are, even as her razor-sharp humor and intelligence make us want to believe her. David Arnold is a write to watch." —Shelf Awareness, starred review
"A YA road trip novel that takes you across the country, with a protagonist on her way to visit her hospitalized mother. And can we talk about that gorgeous cover for a second? My goodness. Get me a poster, right now." —The Huffington Post
"A wacky road trip. . . [Mim's] voice is so singular and full of heart" —The Horn Book
"A strong emphasis on personal alienation and the saving grace of community permeates this voice-driven novel, and the whip-smart narration is seductive and powerful." —Bulletin of the Center for Children's Books
"A classic road trip narrative. . . written with tenderness" —National Post (Canada)
"First-time novelist David Arnold has uncannily captured the voice of a 16-year-old girl with beauty and style in Mosquitoland. . . Arnold's prose is delicious as he peels back each of Mim's layers on her long ride." —BookPage
"You know those books that, despite being realistic contemporary, just transport you into another world entirely? That's exactly the experience of reading Arnold's debut. . . This book makes me wish I were a school librarian, just so I could buy ten copies for my collection." —Barnes & Noble Teen Blog
"Arnold has already been chosen with nine other debut novelists for the ABA Indies New Voices list, and that's not an honor given lightly, so it's definitely a book to keep your eye on." —Bustle

- Kids' Indie Next List "Top Ten" Pick (Spring 2015)
- ABA Indies Introduce Debut Authors and New Voices title
- A Junior Library Guild selection
- 2015 Great Lakes Great Reads award winner
- A Publishers Weekly Spring 2015 Flying Start
- Booklist Editors' Choice 2015
- A Booklist Top 10 First Novel for Youth: 2015
- A Kirkus Unforgettable Debut 2015
- An Amazon Best Book of the Year 2015
- An NPR Book Concierge Best of 2015
- A BookPage Best Teen Book of 2015
- A Bustle Best YA Book of 2015
- A Paste Magazine Best YA Book of 2015
- A Buzzfeed Best YA Book of 2015
- A Hudson Booksellers Best Book for Young Readers 2015