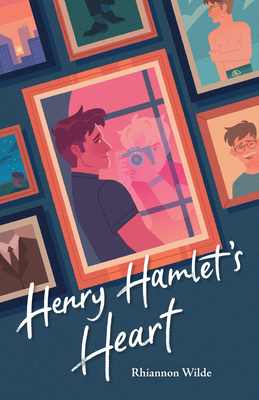 Henry Hamlet's Heart
Publication Date:
October 18th, 2022
Publisher:
Charlesbridge Teen
The MIT Press Bookstore
1 on hand, as of Dec 5 4:07pm
(JR:YA)
On Our Shelves Now
This is the best friends-to-lovers romance my cold cynical heart needed. Henry and his first love feelings are a cuteness overload. Full of humor, sincerity, and excellent music, this is one of my new favorite coming-of-age stories.
November/December 2022 Kids Indie Next List
Description
This smart and charming queer YA rom-com about falling for your best friend will win the hearts of fans of Adam Silvera and Becky Albertalli.
Henry Hamlet doesn't know what he wants after school ends. It's his last semester of high school, and all he's sure of is his uncanny ability to make situations awkward. Luckily, he can always hide behind his enigmatic best friend, Len. They've been friends since forever, but Len is mysterious and Henry is clumsy, and Len is a heartthrob and Henry is a neurotic mess. Somehow it's always worked.
 
That is, until Henry falls in love. Hard. How do you date your best friend? 
 
From an exciting debut author comes a passionate story of growing up, letting go, and learning how to love.
Praise for Henry Hamlet's Heart
♦Eighteen-year-old Aussie Henry Hamlet and golden boy Lennon Cane have been best friends forever. But that easy relationship may be about to change in a life-altering way when, at a libidinous party, a game of truth or dare challenges Len to make out with Henry. And (gasp!) he does, and (gasp!) Henry finds himself responding. Needless to say, Len wins the game and, while he's at it, Henry's heart. But is it possible that Len feels the same way about Henry? Yes, indeed; and, after the obligatory awkwardness, the two closeted boys begin a secret relationship. But, true to his name, Henry Hamlet is given to overthinking (To love or not to love?). "I mean," he muses, "who gets it this bad for their best friend? The real Hamlet's got nothing on me."  A bit of a Hamlet himself, Len shares Henry's uncertainties, and—in a dramatic, heartbreaking scene—the two break up, seeming to doom any hope for a happy ending. More than an affecting romance, this is a character-driven literary novel that features authentic, multidimensional characters whose speech isn't exactly Shakespearean, but Wilde proves to be especially good at dialogue, with a gift for witty banter that rings true and helps define character. Set in Australia, this superb first novel proves the universality of love.
—Booklist, starred review
Teen boys fall in love in this friends-to-lovers romance.
It's 2008, and best friends Henry Hamlet and Lennon Cane, both cued White, are in the graduating class at Northolm Grammar School for Boys. Henry was elected school captain, and he's active in debate, but he doesn't know what he wants to do after school is finished. In the meantime, his group of friends wants to make the most of their last semester together. When a game of Truth or Dare at a party leads to Henry and Len kissing, Henry's world is forever changed. He realizes his feelings for Len go beyond friendship, but Len is cool and casual and has dated around, not limited by gender in his attraction. Even when Len returns Henry's affection, Henry remains uncertain of what their relationship really means. This slice-of-life story set in Brisbane is slow to start but becomes more enticing once Henry grows aware of his feelings. The developing romance becomes the driving force, but there's also friendship, school stress, and family drama. Henry's narration captures the range of emotions that come with new love, evolving identity, and anxieties about being on the cusp of adulthood. There are several endearing side characters, like Henry's bisexual Gran, but some of his friends aren't as distinctly drawn. Still, this warm tale is bursting with heart, and Henry is easy to cheer for.
A charming queer romance. 
—Kirkus Reviews
An 18-year-old grapples with sudden feelings for his best friend in Australian author Wilde's upbeat, 2008-set debut rom-com. Henry Hamlet, the unpopular, introverted school captain at Brisbane Northolm Grammar School for Boys, is worried about not having a clear life plan. As graduation looms, he finds it difficult to juggle tumultuous relationships with an uncertain future: his grandmother pressures him to pursue his art, while his parents believe success lies in his academic prowess, and his friends have begun fixating on romance, something that Henry wants nothing to do with. That is, until his best friend, Lennon Cane—sports star, serial heartbreaker, and aspiring photographer—kisses him during a game of truth or dare, which sparks confusing emotions in Henry. After Len admits wanting to pursue a relationship with Henry, the two begin dating, but when Len unexpectedly pulls away, Henry struggles to cope with potentially losing both his best friend and their budding relationship. Wilde deftly captures classic adolescent boys' dialogue, while Henry's constant, occasionally heartbreaking self-doubt is mitigated by his endearing and at times hilariously overwrought internal narrative in this sincere romance. Characters present as white. Ages 14–up.
—Publishers Weekly
Henry Hamlet, senior at Northolm Grammar School for Boys, is the school captain and a force on the debate team but does not know what the future holds for him after high school. Sometimes, the only thing he feels good at is making any social situation awkward. His best friend, Len, is the opposite: bold, athletic, and an enigma in the relationship department. When a game of truth or dare leads to Len and Henry kissing, Henry realizes he may have feelings deeper than friendship. When Len, who struggles with commitment, reciprocates some of those feelings, Henry is faced with the fear of losing his best friend forever. A nice debut that starts slowly but picks up momentum in Part 2 as Henry and Len's relationship is explored more deeply. The protagonist, Henry, is easy to sympathize with as he navigates his feelings throughout. However, the real standout character is Len, whose complexity equals or surpasses Henry's. The side characters added some humor to the story, but not a lot of dimension, although Henry's grandma is charming as she prepares for her wedding to her girlfriend. Overall, Henry is the character that readers will want to see come out on top. Characters are cued white.
VERDICT This sweet queer best friends fall in love story is perfect for fans of Becky ­Albertalli.
—School Library Journal
Henry Hamlet is many things: a good student, school captain, leader of the debate club. He is also the unfortunate possessor of the nickname "Spew Grant" after projectile vomiting on a girl's shoes. Although Henry has definitely learned that he and underage drinking are not a good mix, he nevertheless finds himself imbibing at another party he doesn't really want to attend. When someone dares Henry's best friend, Lennon Cane, to kiss Henry, their drunken lip-lock turns heated, and Henry suddenly has a new set of problems to cope with. Is it possible to turn your best friend into your boyfriend without losing the friendship you already have? And will commitment-phobic Len stick around or break Henry's heart? This Australian import and Wilde's debut is a sweet, if a little directionless, slice-of-life about two teens fumbling their way toward each other, with plenty of mistakes on both sides. Set in Brisbane in 2008, the not-so-distant past does not feel all that different from today; more unique is the location, and U.S. readers will find it interesting to compare Australian and American high school life. Minimalist dialogue can sometimes leave readers behind, but Henry's first-person narration fills in the gaps. Complete with grand romantic gestures and a slightly overwrought ending, this otherwise understated novel will delight romance fans, particularly those of Benjamin Alire Sáenz's Aristotle & Dante books.
—The Bulletin for the Center of Children's Books