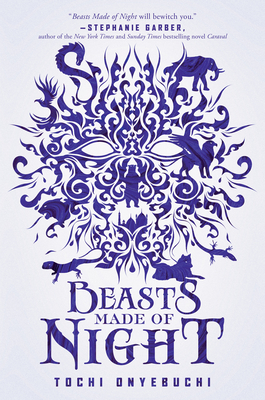 Beasts Made of Night
Publication Date:
September 4th, 2018
The MIT Press Bookstore
2 on hand, as of Nov 30 10:32am
(JR:YA)
On Our Shelves Now
Description
"...The beginning of a great saga..." —NPR.org
"This compelling Nigerian-influenced fantasy has a wonderfully unique premise and lush, brilliant worldbuilding that will consume you until the last page."—Buzzfeed
"...Unforgettable in its darkness, inequality, and magic." —VOYA, Starred Review
"...A paean to an emerging black legend."—Kirkus Reviews, Starred Review 
Black Panther meets Nnedi Okorafor's Akata Witch in Beasts Made of Night, the first book in an epic fantasy duology. 
 
In the walled city of Kos, corrupt mages can magically call forth sin from a sinner in the form of sin-beasts—lethal creatures spawned from feelings of guilt. Taj is the most talented of the aki, young sin-eaters indentured by the mages to slay the sin-beasts. But Taj's livelihood comes at a terrible cost. When he kills a sin-beast, a tattoo of the beast appears on his skin while the guilt of committing the sin appears on his mind. Most aki are driven mad by the process, but Taj is cocky and desperate to provide for his family. 
When Taj is called to eat a sin of a member of the royal family, he's suddenly thrust into the center of a dark conspiracy to destroy Kos. Now Taj must fight to save the princess that he loves—and his own life. 
Debut author Tochi Onyebuchi delivers an unforgettable series opener that powerfully explores the true meaning of justice and guilt. Packed with dark magic and thrilling action, Beasts Made of Night is a gritty Nigerian-influenced fantasy perfect for fans of Paolo Bacigalupi and Nnedi Okorafor.
iBooks Most Anticipated YA Books of the Fall 
io9's All the Science Fiction and Fantasy Books to Keep On Your Radar This Fall
BuzzFeed's 22 YA Novels You'll Want To Read From Cover To Cover This Fall
A 2017 BookExpo Buzz Book
A Junior Library Guild Selection 
Praise for Beasts Made of Night
"The beginning of a great saga...Fantastic worldbuilding sets the stage in this debut novel, as Tochi Onyebuchi conjures up a busy market city inspired by his Nigerian heritage and populates it with a group of outcast kids who shoulder the sins of the rich and powerful...This is not the first fantasy book to take more interest in the world than the story – it certainly worked for Tolkien, and Beasts Made of Night could do much worse than to follow in those footsteps. Onyebuchi has created a world that will no doubt inspire many in turn."—NPR.org
"This compelling Nigerian-influenced fantasy has a wonderfully unique premise and lush, brilliant worldbuilding that will consume you until the last page."—BuzzFeed
"Onyebuchi's debut novel explores class, politics, religion, and so much more, all in a world that is masterfully built, sweeping, and imaginative."—Bustle

"Epic" is an overused term to describe how magnificent someone or something is. Author Onyebuchi's novel creates his in the good old-fashioned way: the slow, loving construction of the mundane and the miraculous, building a world that is both completely new and instantly recognizable."—Kirkus Reviews, Starred Review 
"The colorful, dynamic setting is unforgettable in its darkness, inequality, and magic. The characters are captivating, and the caste-like struggle between the "haves" and "have-nots" is depicted in vivid, convincing detail by the Nigerian American author. Onyebuchi demonstrates a special talent for worldbuilding, outstanding even in a genre saturated with unique worlds."—VOYA, Starred Review 
"Themes of belonging, self-discovery, and inequity round out the richly imagined world of Onyebuchi's debut, where war and dark magic are around every corner…Onyebuchi's worldbuilding is vivid and beguiling, and Taj's outward cockiness hides a core of vulnerability. A coming revolution will have readers looking forward to the next book."—Publishers Weekly 

"Onyebuchi crafts a compelling tale for his first novel, seamlessly blending fantasy, religion, political intrigue, and a touch of steampunk into a twisting tale of magic."—Booklist 
"Beasts Made of Night is an intense novel that touches on powerful themes of justice, inequality and family. Onyebuchi's inventive realm, combined with the Nigerian influences, ink the reader's soul and are certain to leave a lasting mark on the young adult canon as well."—Shelf Awareness
"A unique Nigerian fantasy, Onyebuchi builds a mystical world rife with suspense, danger and romance. You'll be hooked from the first page...Onyebuchi pushes boundaries by addressing privilege, otherness and socio-economic strife in the fantasy realm. A surprising and fun read, don't pass up this vibrant tale."—RT Book Reviews
"Beasts Made of Night will bewitch you. Taj will steal your heart without even trying, while his deadly world will lure you in, leaving you spellbound long after the final devastating page." —Stephanie Garber, author of the New York Times and Sunday Times bestselling novel, Caraval
"Tochi Onyebuchi deftly balances humor and tragedy, beauty and darkness. Beasts Made of Night is an exquisitely crafted, imaginative and absorbing tale. Taj, the hero, is both imperfect and hilarious—I wish we could hang out."—Sabaa Tahir, #1 New York Times bestselling author of An Ember in the Ashes and A Torch Against the Night
"Tochi Onyebuchi has built a world as dark as it is bright, and filled it with character and consequence. Taj's city is deep, vibrant, and terrifying. I don't think I'd survive there, but I really need to know what happens next." —E. K. Johnston, New York Times bestselling author of Star Wars: Ahsoka and Exit, Pursued by a Bear
"A thrilling, action-packed story, Beasts Made of Night kept me reading long past bedtime. Set in a richly rendered world that is fascinating, beautiful, and terrible all at once, it made me hold my breath." —Kendare Blake, New York Times bestselling author of Three Dark Crowns