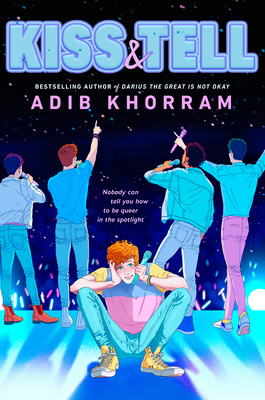 Kiss & Tell
Publication Date:
March 22nd, 2022
The MIT Press Bookstore
2 on hand, as of Dec 5 4:07pm
(JR:YA)
On Our Shelves Now
Description
"Kiss & Tell is a total rush! Perfectly sweet and swoon worthy. I loved every page!" – Julie Murphy, New York Times bestselling author of Dumplin'

 
A smart, sexy YA novel about a boy band star, his first breakup, his first rebound, and what it means to be queer in the public eye, from award-winning author Adib Khorram
Hunter never expected to be a boy band star, but, well, here he is. He and his band Kiss & Tell are on their first major tour of North America, playing arenas all over the United States and Canada (and getting covered by the gossipy press all over North America as well). Hunter is the only gay member of the band, and he just had a very painful breakup with his first boyfriend--leaked sexts, public heartbreak, and all--and now everyone expects him to play the perfect queer role model for teens.
But Hunter isn't really sure what being the perfect queer kid even means. Does it mean dressing up in whatever The Label tells him to wear for photo shoots and pretending never to have sex? (Unfortunately, yes.) Does it mean finding community among the queer kids at the meet-and-greets after K&T's shows? (Fortunately, yes.) Does it include a new relationship with Kaivan, the drummer for the band opening for K&T on tour? (He hopes so.) But when The Label finds out about Hunter and Kaivan, it spells trouble—for their relationship, for the perfect gay boy Hunter plays for the cameras, and, most importantly, for Hunter himself.
Praise for Kiss & Tell
An American Library Association 2023 Rainbow Book
Booklist Editors' Choice 2022
2023 Texas TAYSHAS Reading List Selection
Kirkus Best Book of 2022
★ "Khorram does a terrific job of taking readers inside the world of pop music, especially showing the stress involved in celebrity…[he] handles these dramatic complexities like a master, and readers will be grateful for his skill." –Booklist, starred review
★"This is a love letter to boy bands…[Adib Khorram] effectively encapsulates the ecosystem of celebrity and fandom—and cultivates a strong, contemporary social message…An absolute bop; Khorram's best yet." –Kirkus, starred review 
★ "Khorram deftly makes the story work, calling on readers to empathize with Hunter's pride and embarrassment, questions about how he should look and be, and maybe even his belated realization that the band's other members also receive public scrutiny" – Publishers Weekly, starred review
★ "Readers looking to celebrate their boy-band fandom or add to their boy-meets-boy reading list will revel in everything this novel has to offer… this is a thought-provoking pleasure read that hits all the right notes." –BCCB, starred review
"Adib has crafted a sparkling, modern fairytale effortlessly woven with yearning, social justice, and sweet but complex friendships bursting with lovely little rays of hope." —David Yoon, New York Times bestselling author of Frankly in Love and Super Fake Love Song

"Adib Khorram's Kiss & Tell is a hyperpop blast of queerness that examines the perils of finding your identity under the spotlight of fame, and celebrates the transformative power of the artistic process. I loved it." —Abdi Nazemian, author of Stonewall Honor book Like a Love Story
"Perfectly nuanced and deeply relevant, Kiss & Tell is a harmonic blend of humor, romance, and unforgettable voice. An anthemic reminder that queer teens are allowed to exist as themselves, on their own terms. This book deserves a standing ovation."—Julian Winters, award-winning author of Running with Lions

"For queer readers of every age who've been made to feel like nothing but a dirty word, Kiss & Tell is a brilliant takedown of exploitations of queerness and the policing of teens, filled with heartache, hilarity, friends-for-life, and stadium-sized queer joy."—Tessa Gratton, author of Strange Grace

"A pitch-perfect novel about messy loves, big heartbreaks, and defining queerness on your own terms. This one seals it: Adib Khorram couldn't write a book I wouldn't love." —Leah Johnson, bestselling and Stonewall Honor winning author of You Should See Me in a Crown and Rise to the Sun