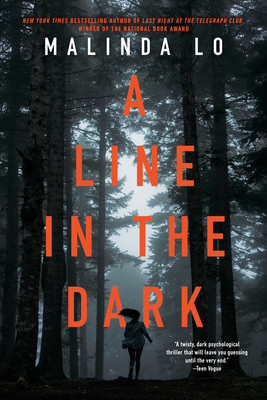 A Line in the Dark
Publication Date:
October 4th, 2022
Publisher:
Dutton Books for Young Readers
The MIT Press Bookstore
3 on hand, as of Dec 5 4:07pm
(JR:YA)
On Our Shelves Now
Description
"A twisty, dark psychological thriller that will leave you guessing til the very end."—Teen Vogue

"[A] riveting read…"—NPR
The line between best friend and something more is a line always crossed in the dark.
 
Jess Wong is Angie Redmond's best friend. And that's the most important thing, even if Angie can't see how Jess truly feels. Being the girl no one quite notices is OK with Jess anyway. If nobody notices her, she's free to watch everyone else. But when Angie begins to fall for Margot Adams, a girl from the nearby boarding school, Jess can see it coming a mile away. Suddenly her powers of observation are more a curse than a gift.
 
As Angie drags Jess further into Margot's circle, Jess discovers more than her friend's growing crush. Secrets and cruelty lie just beneath the carefree surface of this world of wealth and privilege, and when they come out, Jess knows Angie won't be able to handle the consequences.
 
When the inevitable darkness finally descends, Angie will need her best friend.
                               
"It doesn't even matter that she probably doesn't understand how much she means to me. It's purer this way. She can take whatever she wants from me, whenever she wants it, because I'm her best friend."
 
A Line in the Dark is a story of love, loyalty, and murder.
★ "Mesmerizing."—Kirkus, starred review.
Praise for A Line in the Dark
"With an active focus on female friendships and relationships, A Line in the Dark is a twisty, dark psychological thriller that will leave you guessing til the very end. The story follows two friends down a path of dysfunction and murder as one of them, Chinese-American Jess tries to balance the expectations of her family, her fraught relationship with Angie, and her mounting sexual attraction for her. Lo offers some impressive storytelling, a chilling plot, and mean girls aplenty."—Teen Vogue
"[A] riveting read… The story of tensions, romances and even violence between townies and prep school kids is well-trodden ground, but Lo makes it new and exciting by creating nuanced queer characters and giving them the chance to make their own terrible decisions."—NPR

"[A] heart-tugging story of a teenage girl who expresses herself in art in ways she can't quite do in real life — even as she tries to hold on to her best friend despite grappling with deeper feelings for her."—Vulture

"AAsh, Huntress, and Inheritance, A Line in the Dark. Lo instantly invites readers along, enticing them to stay up just a little bit later for the next big reveal, and supplies readers with one final twist that will take their breath away."—Lambda Literary
"[A] hauntingly captivating thriller."—Bustle
"This slender novel packs a punch."—Brightly
"A Line in the Dark marks Lo's foray into the contemporary genre, promising an intense read that should be at the top of your list."—Paste
"Malinda Lo's A Line in the Dark is soaked in menace. Each page in this brilliant thriller is deliciously unsettling—like Gone Girl meets Pretty Little Liars." —Kiersten White, New York Times bestselling author of And I Darken and Now I Rise.
"A beautifully written and compellingly well-observed psychological thriller." —Kate Elliott, New York Times bestselling author of Court of Fives and Cold Magic
"As soon as I finished, I had to read it again." —Justine Larbalestier, author of My Sister Rosa and Liar
★"Malinda Lo delivers an enthralling mystery full of twists, turns, dark heroics... and high school."—Shelf Awareness, starred review 
★ "Lo has delivered an intricate tapestry of narrative, woven in a labyrinthine pattern of secrets and colored with intersecting hues of Chinese-American identity, the dark intensity of relationships, and telltale stains of blood.... Mesmerizing."—Kirkus, starred review
★ "The plot is fast-paced and will keep readers guessing until the end. The characters are well developed and feel authentic. It is refreshing to read about LGBT characters in a story where being LGBT is not the focus. Any young adult reader who loves psychological thrillers will be clamoring to get their hands on this captivating book."—SLC, starred review
"Drawing every character as complicit in unexpected and thought-provoking ways, Lo spins an addictive psychological mystery."—The Horn Book
"Dark, twisty, and unsettling, this book almost begs to be read in one sitting, and then instantly reread.... Verdict: A high-interest thriller with wide appeal recommended for all collections."—SLJ

★ Kirkus Best Teen Book  ★ 
★ Vulture 10 Best YA Books ★
★ Chicago Public Library's Best Teen Fiction ★
★ Rainbow List ★