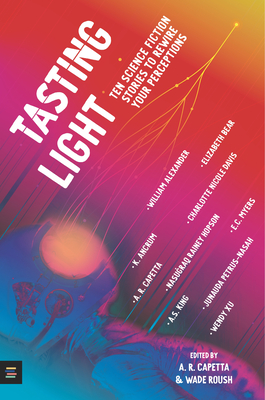 Tasting Light: Ten Science Fiction Stories to Rewire Your Perceptions
Publication Date:
October 11th, 2022
The MIT Press Bookstore
50 on hand, as of Nov 29 10:27am
(JR:YA)
On Our Shelves Now
Description
In a mind-bending MITeen anthology, ten top YA authors use emerging technologies to explore startling new realities.
What does the future hold? Ten speculative short stories by leading young-adult authors imagine what the world could be through the lens of technologies emerging today. When the modification industry transforms how humans look, sound, and interact, a nonbinary teen braves the "reinvention room" to accept a gift from the dead. In an accidental city in space, a young apprentice holds neighborhoods together with braided carbon filaments until distraction and inspiration arrive in the wake of a visitor. Entitlement-fueled drug use alters the landscape of white privilege, robots remember the Earth, and corporate "walkers" stroll for unknown subscribers—until one hacks the system. In tales buzzing with possibility, hope, innovation, anger, and tenderness, Tasting Light offers a dazzling challenge to connect with open minds, hearts, and senses in a fast-changing world.
With stories by:
William Alexander
K. Ancrum
Elizabeth Bear
A.R. Capetta
Charlotte Nicole Davis
Nasugraq Rainey Hopson
A.S. King
E.C. Myers
Junauda Petrus-Nasah
Wendy Xu
Praise for Tasting Light: Ten Science Fiction Stories to Rewire Your Perceptions
A diverse anthology showing hopeful futures imagined through the lens of technology. . . . celebrates queerness, a variety of gender identities, and the freedom to be oneself, delving into how technology can influence and transform reality as well as be used for the greater good—or to oppress. . . . A top-notch hard science fiction collection.
—Kirkus Reviews (starred review)
Dazzling . . . explores emerging innovative technology to imagine expansive futures. . . . Podcast scripts, pen pal letters, and a b&w comic, illustrated via gentle line, are a few of the vehicles used to render these moving tales. The creators seamlessly tackle relevant issues such as colonization, misogyny, transphobia, and white entitlement in this eclectic celebration of infinite possibility and the ever-present human spirit.
—Publishers Weekly (starred review)
The 10 short stories in this luminous collection are set in the future in different locations. . . At once unsettling and moving, this crystalline collection will find or create a connection with its readers.
—Booklist
This collection of innovative YA hard science fiction short stories thoughtfully reimagines a gender-diverse future from an array of perspectives. . . . Each story is unique, brilliant, and brimming with hope.
—Buzzfeed
It's been a while since we had a full YA collection of only science fiction, but who better to bring it back than Capetta and Roush. They've put together a fine array of stories blending queerness and technology.
—Tor.com
Tasting Light explores everyday coming-of-age issues but throws in speculative curveballs. . . a great intro to a really diverse group of young adult authors!
—Seven Days