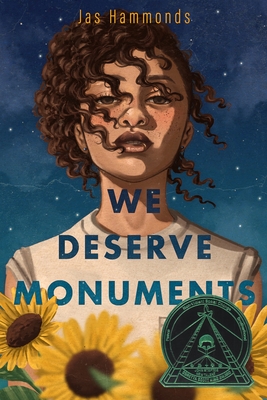 We Deserve Monuments
Publication Date:
November 29th, 2022
Publisher:
Roaring Brook Press
The MIT Press Bookstore
1 on hand, as of Nov 29 10:27am
(JR:YA)
On Our Shelves Now
I don't know how Jas Hammonds wove so many beautiful, intricate layers into this story, butWe Deserve Monumentsis stunning. An intergenerational mystery, a tribute to first love, and one of the best YA books I've read in the last decade.
November/December 2022 Kids Indie Next List
Description
"An absolute must read." —Buzzfeed
"A gripping portrayal of the South's inherent racism and a love story for queer Black girls." —Teen Vogue
Family secrets, a swoon-worthy romance, and a slow-burn mystery collide in We Deserve Monuments, a YA debut from Jas Hammonds that explores how racial violence can ripple down through generations.
What's more important: Knowing the truth or keeping the peace?
Seventeen-year-old Avery Anderson is convinced her senior year is ruined when she's uprooted from her life in DC and forced into the hostile home of her terminally ill grandmother, Mama Letty. The tension between Avery's mom and Mama Letty makes for a frosty arrival and unearths past drama they refuse to talk about. Every time Avery tries to look deeper, she's turned away, leaving her desperate to learn the secrets that split her family in two.
While tempers flare in her avoidant family, Avery finds friendship in unexpected places: in Simone Cole, her captivating next-door neighbor, and Jade Oliver, daughter of the town's most prominent family—whose mother's murder remains unsolved.
As the three girls grow closer—Avery and Simone's friendship blossoming into romance—the sharp-edged opinions of their small southern town begin to hint at something insidious underneath. The racist history of Bardell, Georgia is rooted in Avery's family in ways she can't even imagine. With Mama Letty's health dwindling every day, Avery must decide if digging for the truth is worth toppling the delicate relationships she's built in Bardell—or if some things are better left buried.
A School Library Journal Best Book of 2022
Praise for We Deserve Monuments
2023 Coretta Scott King John Steptoe Award for New Talent Winner
A Kirkus Best Books of 2022
A School and Library Journal Best Book of 2022
A B&N Best Book of 2022
A Parents Magazine Best Books of 2022
People magazine's Best Children's Books of 2022

"An absolute must read." —Buzzfeed
"A gripping portrayal of the South's inherent racism and a love story for queer Black girls." —Teen Vogue
"We Deserved Monuments gives us a complex and deeply injured family, and shows a path to healing." —NPR
"Hammonds seamlessly weaves together mystery, romance, and a town's racist history, crafting a gripping and emotional story. A love story—romantic and familial—that is a must-read." —Kirkus Reviews, starred review

"[An] absolutely stunning debut. . . . Written from a place of love and healing, Hammonds' definitive standout will stay with readers." —Booklist, starred review
"A breathtaking exploration of vital issues wrapped up in a mystery, challenging readers to reexamine their own truths. A must-purchase for all ­libraries serving high school readers." —School Library Journal, starred review
"An expertly fleshed-out cast and a lushly described setting [that] thoughtfully examine questions of mortality and identity. This remarkable debut explores multigenerational trauma and how its effects leave severe wounds on the present while resonating into the future, making for a heartrending tale." —Publishers Weekly, starred review
"Life, identity, love, death—it's all here. We Deserve Monuments marks a noteworthy debut from a writer paving her own literary future. " —BookPage, starred review

"Hammonds's debut is an outstanding. . . . When [all] truths are finally revealed, the abundance of heart-wrenching revelations will surely leave engrossed readers catching their breath." —Shelf Awareness, starred review

"Dynamic and astonishing." —Horn Book Magazine
"We Deserve Monuments is an absolutely beautiful achievement. I felt this book in my heart, in my very marrow itself." —Christina Hammonds Reed, New York Times bestselling author of The Black Kids
"We Deserve Monuments is an exquisite story about the value of family, the danger of long-held secrets, and the beauty of first love. I can't wait to read everything Jas Hammonds writes." —Brandy Colbert, award-winning author of The Voting Booth and Little & Lion
"A breathtaking debut that explores love and family in a tender, honest way, with beautiful writing and a mystery that grabs you to the end." —Kim Johnson, bestselling author of This Is My America

"This is a powerful, quaking meditation on generational trauma that effortlessly blends the South's honeyed sunshine with its rotten secrets. Hammonds has written a blazing debut." —Kelly Quindlen, bestselling author of She Drives Me Crazy and Her Name in the Sky
"We Deserve Monuments by Jas Hammonds is a beautifully poignant novel. Readers will be drawn into Avery's story as she discovers long-hidden truths about her family and navigates young love, ultimately finding herself in the process. This was an amazing read!" —Maika & Maritza Moulite, authors of Dear Haiti, Love Alaine and One of the Good Ones
"We Deserve Monuments is at once tender and riveting, drawing you in with its sweetness before sinking in its teeth and never letting go. Hammonds has crafted a profound story about family, history, and the burden of secrets, leaving no stone unturned or truth unexamined in this sincere debut." —Kyrie McCauley, award-winning author of We Can Be Heroes and If These Wings Could Fly
"Jas Hammonds' new book is stunning, and makes for essential reading for anyone who wants to understand the generational trauma of racist violence in the South." –LitHub
"A pull-your-heart-out-with-its-teeth novel. . .[these] characters feel like real people, and so their big love, aches, and humor feel real too. Though the prose, plot, themes, and characters are expertly executed, Avery, the protagonist, carries the voice. Queer kids, Black kids, biracial kids — and everyone else — will find so much of themselves in her." –Chicago Review of Books
"I don't know how Jas Hammonds managed to weave so many beautiful, intricate layers into this story, but We Deserve Monuments is an absolute stunner. An intergenerational mystery, a tribute to first love, and one of the best YA books I've read in the last decade." –Nicole Brinkley, Oblong Books, Rhinebeck, NY
"A phenomenal and emotionally captivating debut that weaves together small town secrecy, intersectional identity, and America's violent history into one stunning, poignant, and sure-to-be influential novel. The kind of book that will keep you up until 2 AM – or at least, it did for me." —Andrew King, Secret Garden Bookshop, Seattle, WA
"This is the kind of book that will take root in your heart and never leave. I flew through this story of generational trauma and queer girl-next-door love with a lump in my throat and tears in my eyes. Trust me when I say you need this book!" —Kassie King, The Novel Neighbor, Webster Groves, MO