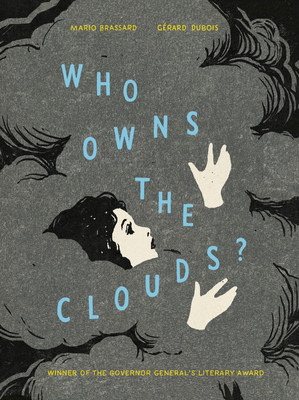 Who Owns the Clouds?
Publication Date:
January 10th, 2023
The MIT Press Bookstore
1 on hand, as of Nov 30 10:32am
(JR:GN)
On Our Shelves Now
Description
A powerful and visually arresting fictional memoir of trauma, memory and hope in the aftermath of war, for readers 12 and up. For fans of Maus.
Even though Mila is no longer a child, she is overcome by memories — memories of a childhood halfway between reality and dreaming, and not knowing which is which.
 
In her dreams, Mila and her family leave their bombed village to stand in line for weeks on end, suitcases in hand, hoping to move on to better lives. But the memories of her uncle's disappearance, and the approach of looming clouds, keep blurring the lines between past and present, real and unreal. How can Mila move forward? Perhaps if the clouds can remind her of where she's from, they can also show her where to go . . .
 
Winner of a Governor General's Award, Canada's most prestigious literary prize, and the Bologna Ragazzi Award, this stunningly evocative book about experience, trauma and healing will stay with readers from beginning to end.
Praise for Who Owns the Clouds?
"A fictional adult protagonist looks back on a period in her childhood spent fleeing a war-torn country in this speculative, ambient graphic novel, which thoughtfully unravels themes of grief, healing, and memory." —Publishers Weekly
"The stark, absorbing illustrations evoke a mid-20th-century European setting and capture the introspective narrative with grace. Rendered largely in sepia tones aptly reminiscent of old photos, this graphic novel measures the weight of memories. . . . A heartfelt and vivid portrait of war trauma." —Kirkus Reviews
"[A] trauma narrative, a complex coming-of-age story, and testimony to the lasting human cost of armed conflict and forced displacement. . . . A book for junior and adult readers, Who Owns the Clouds? gives voice to the unspeakable. And, when the clouds part, a view to hope." —Montreal Review of Books
"Those who survive relocation from war-torn regions are, as the narrator of Who Owns the Clouds? puts it, 'different from other people.' . . . [T]he degree of that difference is etched with matchless precision and grace." —Shelf Awareness
"[A] story of trauma, hope, and resilience. . . . Who Owns the Clouds? will help readers of any age better understand the effects living through war and being forced to leave can have throughout someone's life." —CM: Canadian Review of Materials
"Haunting. . . . Who Owns the Clouds? is a deeply empathic story depicting the innocent people whose lives are affected by the bitterness of war. Its thought-provoking messages could generate discussions for children on the realities of those displaced by conflict." —Young Adulting