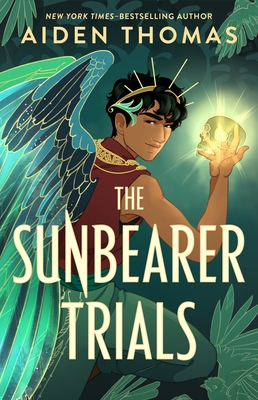 The Sunbearer Trials (The Sunbearer Duology #1)
Publication Date:
September 6th, 2022
Publisher:
Feiwel & Friends
The MIT Press Bookstore
1 on hand, as of Dec 5 4:07pm
(JR:YA)
On Our Shelves Now
Another amazing novel by Aiden Thomas, The Sunbearer Trials is an absolute whirlwind of a book with an amazingly crafted world, fantastic representation, and an enthralling story! If you liked Cemetery Boys, then you'll love this series!
September/October 2022 Kids Indie Next List
Description
Welcome to The Sunbearer Trials, where teen semidioses compete in a series of challenges with the highest of stakes, in this electric new Mexican-inspired fantasy from Aiden Thomas, the New York Times bestselling author of Cemetery Boys.
"Only the most powerful and honorable semidioses get chosen. I'm just a Jade. I'm not a real hero."
As each new decade begins, the Sun's power must be replenished so that Sol can keep traveling along the sky and keep the chaotic Obsidian gods at bay. Sol selects ten of the most worthy semidioses to compete in the Sunbearer Trials. The winner carries light and life to all the temples of Reino del Sol, but the loser has the greatest honor of all—they will be sacrificed to Sol, their body melted down to refuel the Sun Stones, protecting the world for another ten years.
Teo, a seventeen-year-old Jade semidiós and the trans son of the goddess of birds, isn't worried about the Trials . . . at least, not for himself. His best friend, Niya is a Gold semidiós and a shoo-in for the Trials, and while he trusts her abilities, the odds of becoming the sacrifice is one-in-ten.
But then, for the first time in over a century, the impossible happens. Sol chooses not one, but two Jade competitors. Teo, and Xio, the thirteen-year-old child of the god of bad luck. Now they must compete in five trials against Gold opponents who are more powerful and better trained. Worst of all, Teo's annoyingly handsome ex-best friend and famous semidiós Hero, Aurelio is favored to win. Teo is determined to get himself and his friends through the trials unscathed—for fame, glory, and their own survival.
Praise for The Sunbearer Trials (The Sunbearer Duology #1)
"One of the best fantasy novels I have ever read. Aiden Thomas is masterful in their ability to not only build such a brilliant world but also characters who you love and want to root for. The Sunbearer Trials is a force to be reckoned with and has completely changed the game." —Faridah Àbíké-Íyímídé, New York Times-bestselling author of Ace of Spades
"Clever, vibrant, & convention-shattering. The Sunbearer Trials is my favorite kind of YA fantasy—spectacular worldbuilding, a charming & supremely lovable main character, & a found family I would die for!" —Romina Garber, New York Times-Bestselling author of Lobizona
"Splendid storytelling. The Sunbearer Trials dazzles with adventure, breathing life into a bustling fantastical world filled with both wonders and evils. Aiden Thomas is a brilliant talent." —Chloe Gong, the New York Times-bestselling author of These Violent Delights

"Aiden Thomas fully knocked me out with THE SUNBEARER TRIALS, delivering charming queer characters, thrilling magical trials, and an immersive fantasy world full of intricate details. This book is a triumph and I could not get enough!" — Xiran Jay Zhao, New York Times-bestselling author of Iron Widow
"Thomas's queernormative world and distinctly drawn cast deliver an upbeat fantasy teeming with captivating worldbuilding, earnest friendships, and electrifying adventure." — Publishers Weekly, starred review
"Thomas unravels a plot that is as riveting as it is terrifying, as...Teo teams up with the other semidioses to save the world they all know and love, regardless of class difference. Fans of the Hunger Games and mythology will revel in this energetic, well-wrought adventure." — Booklist, starred review
"The world of the Reino del Sol is consciously and emphatically queer and ­diverse. Readers who have aged out of Percy Jackson and Rick Riordan Presents will ­delight in the mythology that Thomas has created, while readers who enjoy the ­competition structures of Sarah J. Maas's Throne of Glass or Amanda Foody's All of Us Villains will love reading about the challenges the heroes face." — School Libarary Journal, starred review
"A fun, super-queer read." — Buzzfeed News
"The novel successfully balances magical, action-packed battles with lighter interactions and dialogue...with elements richly drawn from Mexican culture to create a narrative setting that's colorful, expansive, and unique." — Horn Book

"The Sunbearer Trials is a total thrill ride, one that focuses on friendships at least as much as romance, but the book's greatest pleasure is in seeing Teo come into his own and gain power, in the face of unavoidable heartbreak."— The Washington Post
Praise for Cemetery Boys:
"Detailed, heart-rending, and immensely romantic. Cemetery Boys is necessary: for trans kids, for queer kids, for those in the Latinx community who need to see themselves on the page. Don't miss this book." —Mark Oshiro, author of Anger is a Gift

"The novel perfectly balances the vibrant, energetic Latinx culture while delving into heavy topics like LGBTQ+ acceptance, deportation, colonization, and racism within authoritative establishments." —TeenVogue.com
"A romantic mystery as poignant as it is spellbinding, weaved in a mosaic of culture, acceptance, and identity, where intricately crafted characters are the pieces and love—platonic, romantic, familial, and communal—is the glue." —Publishers Weekly, starred review