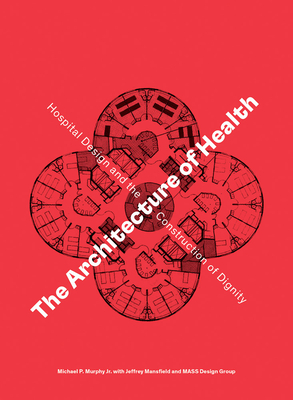 The Architecture of Health: Hospital Design and the Construction of Dignity
Publication Date:
November 30th, 2021
The MIT Press Bookstore
1 on hand, as of Nov 30 10:32am
(AH)
On Our Shelves Now
Description
A story about the design and life of hospitals--how they are born and evolve, the forces that shape them and the shifts that conspire to incapacitate them--from Michael Murphy of MASS Design
Reading architecture through the history of hospitals offers a tool for unlocking the elemental principles of architecture and the intractable laws of human and social conditions that architecture serves in each of our lives. This book encounters brilliant and visionary designers who were hospital architects but also systems designers, driven by the aim of social change. They faced the contradictions of health care in their time and found innovative ways to solve for specific medical dilemmas. Designers and professionals such as Filarete, Llu's Dom nech i Montaner, Albert Schweitzer, Gordon Friesen, E. Todd Wheeler and Eberhard Zeidler are studied here, while the medical spaces of more widely known architects such as Isambard Brunel, Aalvar Aalto, Le Corbusier, Louis Kahn and Paul Rudolph also help inform this history. All these characters were polymaths and provocateurs, but none quite summarizes this history more succinctly than Florence Nightingale, who, in laying out her guidelines for ward design in 1859, shows how the design of a medical facility can influence an entire political and social order.
The Architecture of Health charts historical epidemics alongside modern and contemporary architectural transformations in service of medicine, health and habitation, exploring how infrastructure facilitates healing and architecture's greater role in constructing our societies.
"This incredible and important work is the first in memory to grant the theoretical heft this oft-overlooked building type deserves, conveying not only the technical complexity of hospitals throughout the decades, but how they reflect societal, medical, and philosophical ideals. As the designers of the most revolutionary and humane healthcare architecture of recent decades, Murphy and his colleagues at MASS Design are the perfect fit to author this richly illustrated, vital volume for our pandemic age." --Sara Carr, assistant professor of architecture and program director for the Master of Design in Sustainable Urban Environments program at Northeastern University in Boston, Massachusetts and author of The Topography of Wellness: How Health and Disease Shaped the American Urban Landscape (University of Virginia Press, 2021).
"Michael Murphy opens with an arresting premise--that the role of design may be to "soften the blow" of systems that are indifferent to our humanity. And then he proves it over and over again, applying the same immaculately researched and considered approach to the pages of this book that he does to his buildings. By seamless weaving history, theory and practice, Mr. Murphy models and powerfully conveys the opportunity to construct the health care systems we deserve." --Dr. Neel Shah, American physician, assistant professor, Harvard University in Cambridge, Massachusetts and founder of the nonprofit organizations Costs of Care and March for Moms
"'Where is the design?' Michael Murphy asks. Hospitals are always engineered, but seldom designed. I am thankful for this indispensable book, in which Murphy scans history for traditional typologies of health care facilities and visionary innovations to highlight the need for all that great design can offer, committed not only to human bodies and social control, but rather to society and to the full spectrum of needs and feelings that make us human. Respect and dignity above all." --Paola Antonelli, Senior Curator of Architecture & Design and Director of Research & Development at the Museum of Modern Art, New York City