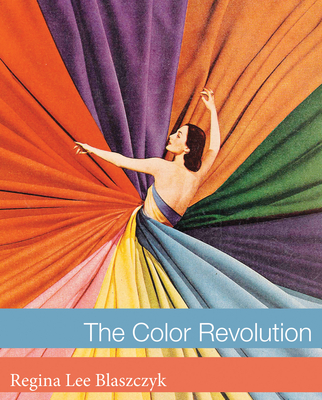 The Color Revolution (Lemelson Center Studies in Invention and Innovation series)
Publication Date:
August 31st, 2012
The MIT Press Bookstore
1 on hand, as of Nov 30 10:32am
(ART)
On Our Shelves Now
Description
A history of color and commerce from haute couture to automobile showrooms to interior design.
When the fashion industry declares that lime green is the new black, or instructs us to "think pink!," it is not the result of a backroom deal forged by a secretive cabal of fashion journalists, designers, manufacturers, and the editor of Vogue. It is the latest development of a color revolution that has been unfolding for more than a century. In this book, the award-winning historian Regina Lee Blaszczyk traces the relationship of color and commerce, from haute couture to automobile showrooms to interior design, describing the often unrecognized role of the color profession in consumer culture.
Blaszczyk examines the evolution of the color profession from 1850 to 1970, telling the stories of innovators who managed the color cornucopia that modern artificial dyes and pigments made possible. These "color stylists," "color forecasters," and "color engineers" helped corporations understand the art of illusion and the psychology of color. Blaszczyk describes the strategic burst of color that took place in the 1920s, when General Motors introduced a bright blue sedan to compete with Ford's all-black Model T and when housewares became available in a range of brilliant hues. She explains the process of color forecasting—not a conspiracy to manipulate hapless consumers but a careful reading of cultural trends and consumer taste. And she shows how color information flowed from the fashion houses of Paris to textile mills in New Jersey.
Today professional colorists are part of design management teams at such global corporations as Hilton, Disney, and Toyota. The Color Revolution tells the history of how colorists help industry capture the hearts and dollars of consumers.
Praise for The Color Revolution (Lemelson Center Studies in Invention and Innovation series)
This fascinating book details how a group of unheralded 'color engineers' created and standardized palettes for the American mass market…Blaszczyk, a design historian, illuminates the economic forces and shifting cultural values that have influenced consumers' color preferences—and she shows how industry has sought to fathom those trends and to anticipate and alter those preferences.—The Atlantic—
Read this marvelous book and your eye for color will snap back into brilliant focus.
—Jude Stewart, Imprint—
Exploring the use of color by American manufacturers from the mid-1800s when scientists, like Perkin, were inventing new industrial pigments and dyes, until the mid-2oth century, [this book] shows what a powerful force color has been – socially, culturally, and economically.
—Alice Rawsthorn, The New York Times—
The Color Revolution…is a result of sheer research rigour…it's also suited for an academic setting, its heft and tone destined to be a primer for the growing number of American Studies, Design History, and Management programmes. Full of rich historical imagery, vintage advertisements, annotated footnotes, and an index, the book catalogues a crucial period in the history of Western consumer culture.
—Aileen Kwun, Icon Magazine—
With a focus on America, the book is a lively account of how individuals and industry made colour a transforming force in our culture and design.
—Design Talks—