Discounted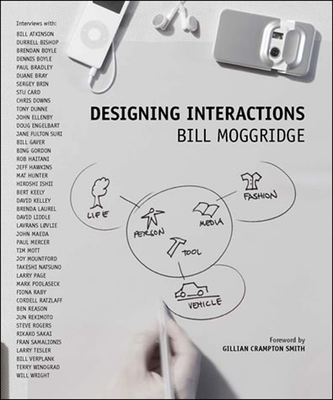 Designing Interactions
Previous price:

$61.95
Current price:

$60.95
Publication Date:
October 18th, 2006
The MIT Press Bookstore
1 on hand, as of Dec 8 10:45am
(DSGN)
On Our Shelves Now
Description
A pioneer in interaction design tells the stories of designers who changed the way people use everyday things in the digital era, interviewing the founders of Google, the creator of The Sims, the inventors and developers of the mouse and the desktop, and many others.
Digital technology has changed the way we interact with everything from the games we play to the tools we use at work. Designers of digital technology products no longer regard their job as designing a physical object—beautiful or utilitarian—but as designing our interactions with it. In Designing Interactions, award-winning designer Bill Moggridge introduces us to forty influential designers who have shaped our interaction with technology. Moggridge, designer of the first laptop computer (the GRiD Compass, 1981) and a founder of the design firm IDEO, tells us these stories from an industry insider's viewpoint, tracing the evolution of ideas from inspiration to outcome. The innovators he interviews—including Will Wright, creator of The Sims, Larry Page and Sergey Brin, the founders of Google, and Doug Engelbart, Bill Atkinson, and others involved in the invention and development of the mouse and the desktop—have been instrumental in making a difference in the design of interactions. Their stories chart the history of entrepreneurial design development for technology.
Moggridge and his interviewees discuss such questions as why a personal computer has a window in a desktop, what made Palm's handheld organizers so successful, what turns a game into a hobby, why Google is the search engine of choice, and why 30 million people in Japan choose the i-mode service for their cell phones. And Moggridge tells the story of his own design process and explains the focus on people and prototypes that has been successful at IDEO—how the needs and desires of people can inspire innovative designs and how prototyping methods are evolving for the design of digital technology.
Designing Interactions is illustrated with more than 700 images, with color throughout. Accompanying the book is a DVD that contains segments from all the interviews intercut with examples of the interactions under discussion.
Interviews with:
Bill Atkinson, Durrell Bishop, Brendan Boyle, Dennis Boyle, Paul Bradley, Duane Bray, Sergey Brin, Stu Card, Gillian Crampton Smith, Chris Downs, Tony Dunne, John Ellenby, Doug Englebart, Jane Fulton Suri, Bill Gaver, Bing Gordon, Rob Haitani, Jeff Hawkins, Matt Hunter, Hiroshi Ishii, Bert Keely, David Kelley, Rikako Kojima, Brenda Laurel, David Liddle, Lavrans Løvlie, John Maeda, Paul Mercer, Tim Mott, Joy Mountford, Takeshi Natsuno, Larry Page, Mark Podlaseck, Fiona Raby, Cordell Ratzlaff, Ben Reason, Jun Rekimoto, Steve Rogers, Fran Samalionis, Larry Tesler, Bill Verplank, Terry Winograd, Will Wright
Praise for Designing Interactions
All in all, I cannot recommend this book too highly: it is fascinating, stimulating and illuminating.—Professor Tom Wilson, Information Research—
During the past forty years, interaction designers have powerfully transformed the daily lives of billions. Designing Interactions is a deeply knowing, intimate portrayal of these people: who they are, how they think, and precisely what they do. If you live or work with computers or cell phones—and who among us has any choice about that?—then you owe it to yourself to read this. A labor of love that was years in the making, this classic has no rival in its field.
—Bruce Sterling, author of Shaping Things—
Designing Interactions offers multiple interfaces in its own right. It's not just a well-designed, nicely indexed book, with a heft that strains the tendons (the back of my review copy cracked after only a few hours of gentle use), but also an enclosed DVD with interviews, and a website (designinginteractions.com) that includes a weekly downloadable chapter. There's an inherent lesson in this arrangement, which is the value of choice. The very randomness of Moggridge's archive shows the truest quality of good interaction design: personality.
—I.D. Magazine—
This is one hell of a book...Part history lesson, part computer science thesis, part design education, part personal design philosophy, it is fascinating, inspirational, occasionally baffling, and often hilarious.
—Helen Walters, BusinessWeek.com—