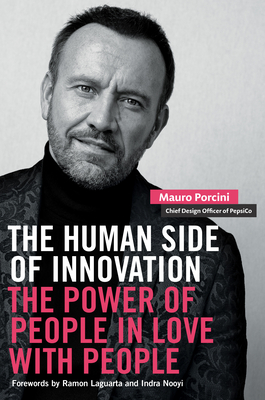 The Human Side of Innovation: The Power of People in Love with People
Publication Date:
November 1st, 2022
Publisher:
Berrett-Koehler Publishers
The MIT Press Bookstore
11 on hand, as of Nov 30 10:32am
(BUSIN)
On Our Shelves Now
Description
PepsiCo's award-winning chief design officer reveals the secret to creating life-changing innovations: putting human needs at the center of any design process.
"Innovation is an act of love—or at least it should be. Always. It is a gesture of empathy, respect, generosity, of one human being's devotion to another," writes Mauro Porcini at the beginning of this extraordinary book.
It is in part a memoir by one of the world's leading designers—the first chief design officer at both 3M and Pepsi. But even more, it is a manifesto for a genuine, authentic, and deeply humanistic approach to design, one that aims to create personal and social value first and financial and economic value afterward.
In every industry, new technologies have lowered the barrier to entry like never before. Either you design exceptional products or somebody will beat you to it. Porcini shows, through example after example and story after story, that the key to real, world-changing innovation is to put people first—not only the people we innovate for but also the people who lead the innovation process.
Putting people first requires what Porcini calls unicorns: people who are in love with people, who have a genuine fire in them to create meaningful solutions for actual human beings. In this book, he describes them, celebrates them, and details their superpowers so you can find them, hire them, grow them, and retain them.
Some are qualities you might expect—the ability to dream combined with the ability to execute. But when was the last time you heard an executive ask prospective hires if they were kind, optimistic, curious, or humble? Porcini uses his journey across startups and multinational corporations, through successes and failures, to create a handbook for modern innovators.
Praise for The Human Side of Innovation: The Power of People in Love with People
"Mauro has written a fascinating book about entrepreneurs who have the disposition and skills to innovate. But there is more to innovation success than being entrepreneurial. The social skills of empathy, curiosity, attentiveness, optimism, and resilience will make a critical contribution to whether the innovation wins or fails."
—Philip Kotler, Professor Emeritus of Marketing, Kellogg School of Management, Northwestern University
 
"Get ready for a powerful journey inside the unique mind of Mauro Porcini, full of innovation frameworks, stories, and one-of-a-kind insights for business leaders, designers, and students alike."
—Joe Gebbia, cofounder of Airbnb and Chairperson, Airbnb.org
 
"Mauro Porcini reveals in this book the unique combination of rigorous research, focus, sensitivity, curiosity, collaboration, and passion that is at the basis of a dream as ancient as his practice—producing good design for all. Just as he was able to inspire a trailblazing CEO, as well as a massive global company and its billions-strong clientele as a consequence, Mauro now inspires us all with his passion and endless talent as a designer and as a raconteur."
—Paola Antonelli, Senior Curator, Architecture and Design, and Director, Research and Development, The Museum of Modern Art
 
"Mauro Porcini explores the universal truth that innovation is by, with, and for people. He delivers it with a unique and provocative voice that shows how each of us puts our own stamp on the creative process."
—Tim Brown, Chair, IDEO, and author of Change by Design
 
"At long last, we have a real definition of a unicorn. Mauro Porcini's glorious book deconstructs the true nature of innovation and reveals how to create meaning with craft, courage, intelligence, and ingenuity."
—Debbie Millman, designer, author, host of the Design Matters podcast; Chair, MPS Branding Department , School of Visual Arts; and Editorial Director, Printmag.com
 
"A pathbreaking leader shares wisdom on how empathy and a deep love for people is at the heart of big, bold innovation."
—Laxman Narasimhan, CEO, Starbucks, and former CEO, Reckitt Benckiser
 
"From the first time I met Mauro, I knew he was a special leader. While his eye for design is exceptional, his eye for talent is what sets him apart. He invests the time to get to know his team, understand them, mentor them, inspire them, and grow them as leaders. I applaud Mauro for sharing his story!"
—Brian Cornell, CEO, Target Corporation