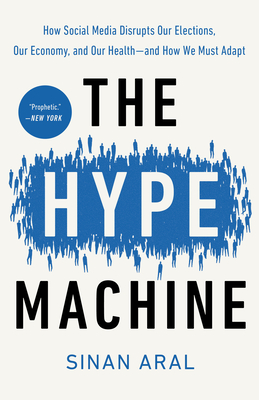 The Hype Machine: How Social Media Disrupts Our Elections, Our Economy, and Our Health--and How We Must Adapt
Publication Date:
September 14th, 2021
Publisher:
Crown Currency
The MIT Press Bookstore
4 on hand, as of Dec 8 10:45am
(BUSIN)
On Our Shelves Now
Description
A landmark insider's tour of how social media affects our decision-making and shapes our world in ways both useful and dangerous, with critical insights into the social media trends of the 2020 election and beyond 
"The book might be described as prophetic. . . . At least two of Aral's three predictions have come to fruition."—New York
NAMED ONE OF THE BEST BOOKS OF THE YEAR BY WIRED • LONGLISTED FOR THE PORCHLIGHT BUSINESS BOOK AWARD

Social media connected the world—and gave rise to fake news and increasing polarization. It is paramount, MIT professor Sinan Aral says, that we recognize the outsize effect social media has on us—on our politics, our economy, and even our personal health—in order to steer today's social technology toward its great promise while avoiding the ways it can pull us apart.
Drawing on decades of his own research and business experience, Aral goes under the hood of the most powerful social networks to tackle the critical question of just how much social media actually shapes our choices, for better or worse. He shows how the tech behind social media offers the same set of behavior influencing levers to everyone who hopes to change the way we think and act—from Russian hackers to brand marketers—which is why its consequences affect everything from elections to business, dating to health. Along the way, he covers a wide array of topics, including how network effects fuel Twitter's and Facebook's massive growth, the neuroscience of how social media affects our brains, the real consequences of fake news, the power of social ratings, and the impact of social media on our kids.
In mapping out strategies for being more thoughtful consumers of social media, The Hype Machine offers the definitive guide to understanding and harnessing for good the technology that has redefined our world overnight.
Praise for The Hype Machine: How Social Media Disrupts Our Elections, Our Economy, and Our Health--and How We Must Adapt
"Eminently relevant . . . [The Hype Machine] offers hope that we can re-engineer social media to better serve society."—New Scientist
"A timely and far-reaching book of great interest to anyone concerned with building a healthy public sphere in the twenty-first century."—Zeynep Tufekci, author of Twitter and Tear Gas
"What Sinan Aral has achieved with his new book The Hype Machine is probably the most comprehensive and best-structured presentation of social media's effects based on existing scientific studies and collective experience."—The Y Circus
 
"The scenario Aral describes should scare any technology leader, user of social media technology, or citizen within a democracy. . . . This book is worth reading to understand the sophistication of social media analytics alone."—Myles Suer, CMS Wire
"This is the most important book of the year! Our friendships, economy, and society now depend on billions of social media connections, and no one on the planet understands them better than Sinan Aral. . . . A lively, engaging masterpiece."—Erik Brynjolfsson, bestselling co-author of The Second Machine Age
"In a sea of books about social media, this is the one to read. Aral understands the new social age like no one else, and The Hype Machine offers the single best examination of how social media works and how we can make it better."—Clint Watts, author of Messing with the Enemy
"An immensely interesting, informative, and provocative look at the biggest technological questions of our time, and the future of our democracy."—Eli Pariser, bestselling author of The Filter Bubble
"The Hype Machine is a riveting story of social media's impact on how we live. Part spy novel and part science thriller, this book is an essential guide to ensuring our digital future."—Jonah Berger, bestselling author of Contagious
"A breathtaking journey through the economics, technology, and behavioral psychology of how we can capture the promise of social media and avoid its peril."—Maria Ressa, CEO of Rappler and a Time Person of the Year for 2018

"Full of rigor and insight, The Hype Machine tackles some of the most pressing policy questions of the Digital Age while keeping you on the edge of your seat. . . . A must-read for policy makers, business executives, and parents alike."—DJ Patil, former U.S. chief data scientist
"In this meticulous dissection of social media, Aral gives us a much-needed framework for understanding what happened in the 2016 election, and what will likely happen again if nothing changes."—Scott Galloway, bestselling author of The Four
"A useful, data-rich analysis of how we use social media—and how it uses us."—Kirkus Reviews
 
"Aral takes readers on a wild journey to explore the role of social media in our lives. [The Hype Machine is] timely for readers interested in important issues, such as data ethics, privacy, platform policies and regulations, the role of social media tech giants in our lives, and how these tools impact consumers' behaviors."—Library Journal