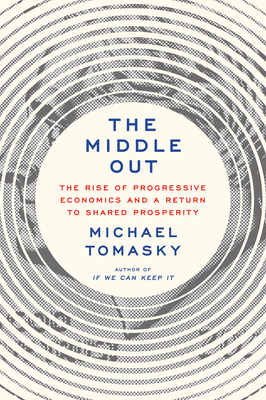 The Middle Out: The Rise of Progressive Economics and a Return to Shared Prosperity
Publication Date:
September 6th, 2022
The MIT Press Bookstore
1 on hand, as of Nov 30 10:32am
(ECON)
On Our Shelves Now
Description
Political journalist Michael Tomasky tracks an exciting change among  progressive economists who are overturning decades of conservative dogma and offering an alternative version of capitalism that can serve broadly shared prosperity to all.
"Engaging, briskly paced ... On balance, history appears to be on Tomasky's side." —The New York Times Book Review
In the first half of the twentieth century the Keynesian brand of economics, which saw government spending as a necessary spur to economic growth, prevailed. Then in the 1970s, conservatives fought back. Once they got people to believe a few simple ideas instead—that only the free market could produce growth, that taxes and regulation stifle growth—the battle was won. The era of conservative dogma, often called neoliberal economics, had begun. It ushered in increasing inequality, a shrinking middle class, and declining public investment. For fifty years, liberals have not been able to make a dent in it. Until now. 
In The Middle Out, journalist Michael Tomasky narrates this history and reports on the work of today's progressive economists, who are using mountains of historical evidence to contradict neoliberal claims. Their research reveals conservative dogma to be unfounded and shows how concentrated wealth has been built on the exploitation of women, minorities, and the politically powerless. Middle-out economics, in contrast, is the belief that prosperity comes from a thriving middle class, and therefore government plays a role in supporting families and communities. This version of capitalism--more just, more equal, and in which prosperity is shared--could be the American future.
Praise for The Middle Out: The Rise of Progressive Economics and a Return to Shared Prosperity
"In this engaging mix of partisanship and history, the editor of The New Republic argues that Democrats succeed when they focus on the ways big government can make the lives of ordinary Americans more economically secure."
--The New York Times Book Review *Editor's Choice*
"Tomasky has written an engrossing history of ideas. It's an incisive look at neoliberalism's trajectory and the rise of a new intellectual model for truly shared prosperity. The Middle Out is critical to understanding our current political economy."
--Heather McGhee, New York Times bestselling author of The Sum of Us: What Racism Costs Everyone and How We Can Prosper Together
"One of America's great liberal journalists tackles the great liberal problem of our age — the economic defenestration of democracy. Essential reading for those seeking to understand how we got into this mess, and how to get out."
--Zachary D. Carter, author of The Price of Peace: Money, Democracy, and the Life of John Maynard Keynes
"It would not be enough to say that the articulate Michael Tomasky targets almost all the economic challenges of our time in his extraordinary new book, The Middle Out. He writes highly accessibly, makes economics a fascinating story, and has a powerful understanding of how economies work.  The American economy has not been run on the basis of well-founded ideas in the last forty years, he makes clear, but on the basis of narrow and self-centered interests. He provides pathways to return to an age of the kinds of values that once made it possible for a compassionately and intelligently run economy to fulfill the lives of all Americans."
--Jeff Madrick, author of Invisible Americans: The Tragic Cost of Child Poverty
"A provocative, welcome platform for wresting economic conversations away from the moneyed class."
--Kirkus Reviews