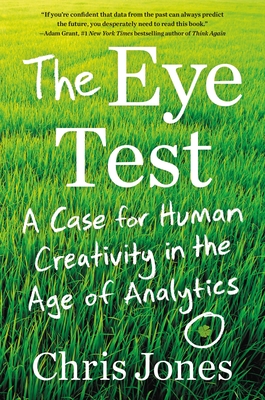 The Eye Test: A Case for Human Creativity in the Age of Analytics
Publication Date:
January 11th, 2022
The MIT Press Bookstore
2 on hand, as of Dec 4 10:31am
(PSYCH)
On Our Shelves Now
Description
In a world increasingly ruled by numbers and algorithms, award-winning journalist Chris Jones makes a compelling case for a more personal approach to analytical thinking​.
 
THE EYE TEST is a necessary course correction, a call for a more balanced, personal approach to problem-solving. Award-winning journalist Chris Jones makes the case for the human element—for what smart, practiced, devoted people can bring to situations that have proved resistant to analytics. Jones shares what he's learned from an army of extraordinary talents, including some of the best doctors, executives, athletes, meteorologists, magicians, designers, astrophysicists, and detectives in the world. There are lessons in their mastery.
Of course, there is a place for numbers in decision-making. No baseball player should be judged by his jawline. But the analytics revolution sparked by Michael Lewis's Moneyball now threatens to replace one kind of absurdity with another. We have developed a blind faith in the machine, the way a driver overly reliant on his GPS might be led off the edge of a cliff. Not all statistical analysis is sound. Algorithms aren't infallible, and spreadsheets aren't testaments. Trust in them too much, and they risk becoming instruments of destruction rather than understanding.
Worse, data's supremacy in our daily lives has led to a dangerous strain of anti-expertise: the belief that every problem is a math problem, and anyone given access to the right information will find the right answer. That taste doesn't matter, experience doesn't matter, creativity doesn't matter. That we can't believe our eyes, no matter how much they've seen.
THE EYE TEST serves as a reminder that if beauty is less of a virtue in the age of analytics, a good eye still is. This book is a celebration of our greatest beholders—and an absorbing, inspiring guide for how you might become one, too.
Praise for The Eye Test: A Case for Human Creativity in the Age of Analytics
"If you're worried that data are replacing human judgment instead of informing it, you're going to love this book. If you're confident that data from the past can always predict the future, you desperately need to read this book. With convincing arguments and delightful writing, Chris Jones makes the case for putting people back in the analytics equation."—Adam Grant, #1 New York Times bestselling author of THINK AGAIN and host of the TED podcast, "WorkLife"
"This is the rare book that will alter the way you perceive the world. It's a story, an argument, a manifesto even: a prayer for a more kind, more creative, more empathetic world. Chris Jones is writing about the human race paused at a fork in the road, and he puts us at that fork with our brothers and sisters. And so, finally, and perhaps most of all, THE EYE TEST serves as a map, out of this artificial mechanical wilderness and back to the flickering light of ourselves."—Wright Thompson, New York Times bestselling author of PAPPYLAND and THE COST OF THESE DREAMS
"Extremes are rarely a good thing—in politics, sports, or our culture. Chris Jones knows that, offering a nuanced argument that while analytics are all the rage, there isn't any sort of mathematical equation to ensure success."
—Chris Cillizza, host of CNN's "The Point"
"THE EYE TEST is brilliant, fun, and incredibly insightful—a must-read for anyone who wants to rediscover the power and promise of human creativity and intuition in our algorithm-ruled age."—Daniel Coyle, author of THE CULTURE CODE
"Chris Jones is a marvelous storyteller who brings the 'heartbeat' back into understanding the wonders of the world. THE EYE TEST is the perfect guide to what role our own expertise and intuition tells us about deciphering the numbers. Chris Jones has written a playfully profound book that well passes its own eye test. It's a book that my sport could use in marrying math with feel, instinct with matrices, and creating a balance that encourages a blend with new and old alike—for me, the only way to process the day."
—Joe Maddon, manager, Los Angeles Angels
"THE EYE TEST is certainly not a blithely pro-analytics book, but nor is it an anti-analytics book. It's a compelling argument that better thinking—and a better, more thoughtful future—calls for wielding all of our cognitive tools. And since Chris Jones is one of the best storytellers at work, it's simply a pleasure to read."—David Epstein, New York Times bestselling author of THE SPORTS GENE and RANGE