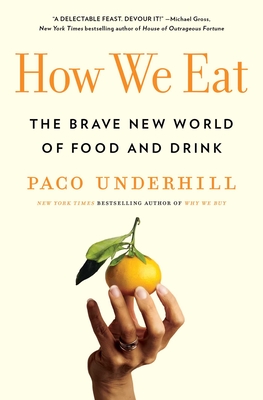 How We Eat: The Brave New World of Food and Drink
Publication Date:
January 3rd, 2023
Publisher:
Simon & Schuster
The MIT Press Bookstore
1 on hand, as of Dec 4 10:31am
(GAST)
On Our Shelves Now
Description
An "eye-opening" (Kirkus Reviews) and timely exploration of how our food—from where it's grown to how we buy it—is in the midst of a transformation, showing how this is our chance to do better, for us, for our children, and for our planet, from a global expert on consumer behavior and bestselling author of Why We Buy.
Our food system is undergoing a total transformation that impacts how we produce, get, and consume our food. Market researcher and bestselling author Paco Underhill—hailed by the San Francisco Chronicle as "a Sherlock Holmes for retailers"—reveals where our eating and drinking lives are heading in his "delectable" (Michael Gross, New York Times bestselling author of 740 Park) book, How We Eat.
In this upbeat, hopeful, and witty approach, How We Eat reveals the future of food in surprising ways. Go to the heart of New York City where a popular farmer's market signifies how the city is getting country-fied, or to cool Brooklyn neighborhoods with rooftop farms. Explore the dreaded supermarket parking lot as the hub of innovation for grocery stores' futures, where they can grow their own food and host community events. Learn how marijuana farmers, who have been using artificial light to grow a crop for years, have developed a playbook so mainstream merchants like Walmart and farmers across the world can grow food in an uncertain future.
Paco Underhill is the expert behind the most prominent brands, consumer habits, and market trends and the author of multiple highly acclaimed books, including Why We Buy. In How We Eat, he shows how food intersects with every major battle we face today, from political and environmental to economic and racial, and invites you to the market to discover more.
About the Author
Paco Underhill was the founder of Envirosell, Inc., a global research and consulting firm. His clients include more than a third of the Fortune 100 list, and he has worked on supermarket, convenience store, food, beverage, and restaurant issues in fifty countries. He is the bestselling author of Why We Buy, The Call of the Mall, What Women Want, and his newest book, How We Eat. He has also written articles for or been profiled in The New York Times, The Wall Street Journal, The Washington Post, The New Yorker, Smithsonian Magazine, and more. Paco divides his time between New York City and Madison, Connecticut.