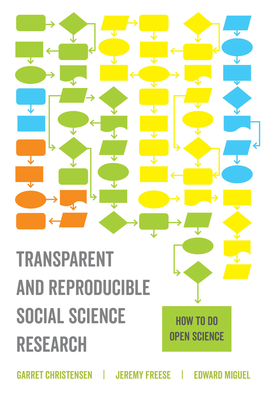 Transparent and Reproducible Social Science Research: How to Do Open Science
Publication Date:
July 23rd, 2019
Publisher:
University of California Press
The MIT Press Bookstore
1 on hand, as of Dec 8 10:45am
(REF)
On Our Shelves Now
Description
Recently, social science has had numerous episodes of influential research that was found invalid when placed under rigorous scrutiny. The growing sense that many published results are potentially erroneous has made those conducting social science research more determined to ensure the underlying research is sound.  Transparent and Reproducible Social Science Research is the first book to summarize and synthesize new approaches to combat false positives and non-reproducible findings in social science research, document the underlying problems in research practices, and teach a new generation of students and scholars how to overcome them. Understanding that social science research has real consequences for individuals when used by professionals in public policy, health, law enforcement, and other fields, the book crystallizes new insights, practices, and methods that help ensure greater research transparency, openness, and reproducibility. Readers are guided through well-known problems and are encouraged to work through new solutions and practices to improve the openness of their research. Created with both experienced and novice researchers in mind, Transparent and Reproducible Social Science Research serves as an indispensable resource for the production of high quality social science research.  
About the Author
Garret Christensen is an Economist at the U.S. Census Bureau and was formerly a Research Scientist at the Berkeley Institute for Data Science and Berkeley Initiative for Transparency in the Social Sciences. His research focuses on the impacts of social safety-net programs. Jeremy Freese is Professor of Sociology at Stanford University, and Co-Principal Investigator of the General Social Survey and Time-Sharing Experiments in the Social Sciences. His research focuses on topics that connect social inequality, health, and social change. Edward Miguel is Oxfam Professor in Environmental and Resource Economics in the Department of Economics at the University of California, Berkeley, and Director of the Center for Effective Global Action. His research focus is on African economic development.
Praise for Transparent and Reproducible Social Science Research: How to Do Open Science
"Reminds us to, occasionally, take a moment for self-reflection to question what we are doing as individual researchers or as a scientific community and whether we should overcome certain habits to get better at our job of explaining the world around us."
— Politics and the Life Sciences