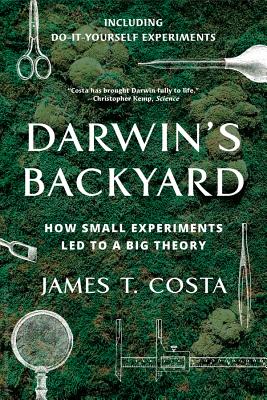 Darwin's Backyard: How Small Experiments Led to a Big Theory
Publication Date:
September 11th, 2018
Publisher:
W. W. Norton & Company
The MIT Press Bookstore
1 on hand, as of Sep 21 10:34am
(BIOMD)
On Our Shelves Now
Description
"If you've ever fantasized walking and conversing with the great scientist on the subjects that consumed him, and now wish to add the fullness of reality, read this book." —Edward O. Wilson, author of Half-Earth: Our Planet's Fight for Life
James T. Costa takes readers on a journey from Darwin's childhood through his voyage on the HMS Beagle, where his ideas on evolution began, and on to Down House, his bustling home of forty years. Using his garden and greenhouse, the surrounding meadows and woodlands, and even the cellar and hallways of his home-turned-field-station, Darwin tested ideas of his landmark theory of evolution through an astonishing array of experiments without using specialized equipment. From those results, he plumbed the laws of nature and drew evidence for the revolutionary arguments of On the Origin of Species and other watershed works.
This unique perspective introduces us to an enthusiastic correspondent, collaborator, and, especially, an incorrigible observer and experimenter. And it includes eighteen experiments for home, school, or garden.
Finalist for the 2018 AAAS/Subaru SB&F Prizes for Excellence in Science Books.
Praise for Darwin's Backyard: How Small Experiments Led to a Big Theory
A really interesting read about a really important character.
— Daniel Pink - PBS NewsHour
A passionate but balanced celebration of [Darwin's] lifelong obsession with enquiry.
— Henry Nicholls - Nature
Entertaining.
— David Dobbs - New York Times Book Review
Readers will enjoy the tales Costa tells and the experience of re-creating some of the famous naturalist's most enlightening work.
— Sid Perkins - Science News
An unusual look at the daily creative life of a great scientist, with opportunities to dig in and observe the workings of nature first hand using methods very similar to his own.
— Shelf Awareness
A charming book about Darwin's homespun experiments.
— Clare Pettitt - Times Literary Supplement
If you think that evolution is 'just a theory,' without a firm background in the real world—read this book and learn. If you've never met Darwin as worm whisperer, seed sorcerer, honeybee helper and lots more, read this book and savor the encounter. If you simply love science and how it works—and are ready for some creative projects you can do yourself—read this book and get ready to fall in love even more!
— David P. Barash, professor of psychology emeritus, the University of Washington, and author of Out of Eden: The Surprising Consequences of Polygamy
So much more than a biography.… Devoted scientists, neighborhood naturalists, and Darwin devotees will all find inspiration within these pages.… [Darwin's Backyard] is accessible and fun.
— Booklist (starred review)
This book gives us a whole new perspective on both the man himself and on the way he did his science. We're accustomed to thinking of the Darwin of those lugubrious late life portraits, apparently weighed down by the heretical burdens of his theories, but Costa gives us instead a man of almost childish curiosity whose playful approach to science is as contagious as it is engaging.… If we were to force Darwin to choose a favorite from among the hundreds of books written about him, my money is on him choosing this one. The real Darwin can be found pottering in his backyard.
— Andrew Berry, author of Infinite Tropics: An Alfred Russel Wallace Anthology
Most readers will be surprised to learn of the incredible amount of field research, observation, and experimentation that Charles Darwin did in the many years after his famous voyage. Costa… argues that those experiences are not only foundational but also educational: they explain evolution better than any classroom lecture.
— Library Journal