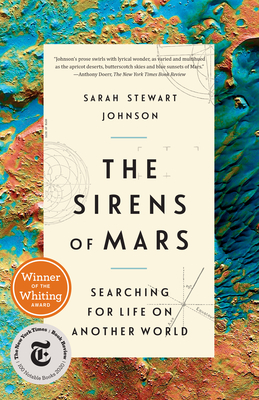 The Sirens of Mars: Searching for Life on Another World
Publication Date:
July 20th, 2021
The MIT Press Bookstore
1 on hand, as of Nov 29 10:27am
(GS:CO)
On Our Shelves Now
I loved this quietly gorgeous book. Sarah Johnson Stewart brings her characters to vivid life —philosophers and scientists from the annals of Western history, family and teachers from her own life, or the dusty dunes of the 'red planet' itself — with clear, almost poetic prose, detailing the history of humanity's fascination with Mars, as well as her own. You will leave these pages with a deeper understanding of interplanetary science and the wonder of humanity's next discovery.
July 2020 Indie Next List
Description
"Sarah Stewart Johnson interweaves her own coming-of-age story as a planetary scientist with a vivid history of the exploration of Mars in this celebration of human curiosity, passion, and perseverance."—Alan Lightman, author of Einstein's Dreams
WINNER OF THE PHI BETA KAPPA AWARD FOR SCIENCE • NAMED ONE OF THE BEST BOOKS OF THE YEAR BY The New York Times Book Review • Times (UK) • Library Journal

"Lovely . . . Johnson's prose swirls with lyrical wonder, as varied and multihued as the apricot deserts, butterscotch skies and blue sunsets of Mars."—Anthony Doerr, The New York Times Book Review
Mars was once similar to Earth, but today there are no rivers, no lakes, no oceans. Coated in red dust, the terrain is bewilderingly empty. And yet multiple spacecraft are circling Mars, sweeping over Terra Sabaea, Syrtis Major, the dunes of Elysium, and Mare Sirenum—on the brink, perhaps, of a staggering find, one that would inspire humankind as much as any discovery in the history of modern science.
In this beautifully observed, deeply personal book, Georgetown scientist Sarah Stewart Johnson tells the story of how she and other researchers have scoured Mars for signs of life, transforming the planet from a distant point of light into a world of its own.
Johnson's fascination with Mars began as a child in Kentucky, turning over rocks with her father and looking at planets in the night sky. She now conducts fieldwork in some of Earth's most hostile environments, such as the Dry Valleys of Antarctica and the salt flats of Western Australia, developing methods for detecting life on other worlds. Here, with poetic precision, she interlaces her own personal journey—as a female scientist and a mother—with tales of other seekers, from Percival Lowell, who was convinced that a utopian society existed on Mars, to Audouin Dollfus, who tried to carry out astronomical observations from a stratospheric balloon. In the process, she shows how the story of Mars is also a story about Earth: This other world has been our mirror, our foil, a telltale reflection of our own anxieties and yearnings.
Empathetic and evocative, The Sirens of Mars offers an unlikely natural history of a place where no human has ever set foot, while providing a vivid portrait of our quest to defy our isolation in the cosmos.
Praise for The Sirens of Mars: Searching for Life on Another World
"Beguiling . . . beautifully written."—The Times (U.K.)
"[Johnson] manages to press moments in time together as closely as the sedimentary rocks on Mars, revealing its history just as the rocks do."—The New Scientist
". . . a book that will have even the staunchest earthlings looking in wonder towards the red glow above."—The Daily Beast
"As [Johnson] displays the love of discovery that drives so much scientific inquiry, it's easy to cheer her on."—The Wall Street Journal
"Lyrical, engaging."—Science News
" . . . a true love letter to geology, on this world and others."—Nature
"Tantalizing and heart-breaking."—Space
"Johnson tells the story of humans' long-distance love affair with Mars . . . and as her immersive book proves, it's a passion both frustrating and infinitely rewarding."—The Washington Post
"I defy anyone to read this book and not step away immediately wanting to ditch their current job and call NASA looking for a new career."—GeekMom
"Elegantly written and boundlessly entertaining . . . Johnson not only answers that big 'why,' making a case for how those frozen red wastes could support life, but also achieves something more remarkable: she makes wild goose chases gripping, and abandoned ideas beautiful."—The Sunday Telegraph
"Brilliantly realized . . . Full of joy and existential curiosity, the book's images and metaphors take up residence in our minds and burn there, connecting scientific inquiry with deep questions about human existence. In every line Johnson makes us feel the passion for discovery and the desire to connect."—The Whiting Committee

"This elegantly crafted book describes humanity's understanding of the Red Planet and conveys what it's like to be a young scientist involved in the quest to discover more."—Lord Martin Rees, Astronomer Royal and author of On the Future: Prospects for Humanity
 
"The Sirens of Mars provides the prospect of great discovery, the future of space science, and an introduction to a writer of the first rank."—Edward O. Wilson, University Research Professor Emeritus, Harvard University
"A lyrical sonnet to a distant world, a human story of exploration, and a personal quest filled with insight and wisdom . . . "—Deborah Blum, Pulitzer Prize–winning author of The Poison Squad
 
"An enthusiastic and lyrical chronicle of the scientific quest to uncover Mars's secrets."—Publishers Weekly (starred review)