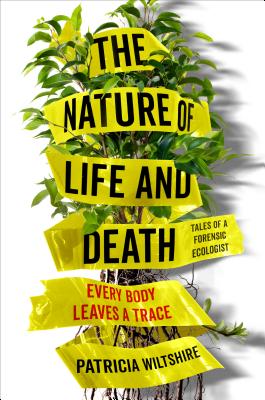 The Nature of Life and Death: Every Body Leaves a Trace
Publication Date:
September 3rd, 2019
Publisher:
G.P. Putnam's Sons
The MIT Press Bookstore
1 on hand, as of Dec 5 4:07pm
(BIOMD)
On Our Shelves Now
Description
A riveting blend of science writing and true-crime narrative that explores the valuable but often shocking interface between crime and nature--and the secrets each can reveal about the other--from a pioneer in forensic ecology and a trailblazing female scientist.
From mud tracks on a quiet country road to dirt specks on the soles of walking boots, forensic ecologist Patricia Wiltshire uses her decades of scientific expertise to find often-overlooked clues left behind by criminal activity. She detects evidence and eliminates hypotheses armed with little more than a microscope, eventually developing a compelling thesis of the who, what, how, and when of a crime. Wiltshire's remarkable accuracy has made her one of the most in-demand police consultants in the world, and her curiosity, humility, and passion for the truth have guided her every step of the way.
A riveting blend of science writing and true-crime narrative, The Nature of Life and Death details Wiltshire's unique journey from college professor to crime fighter: solving murders, locating corpses, and exonerating the falsely accused. Along the way, she introduces us to the unseen world all around us and underneath our feet: plants, animals, pollen, spores, fungi, and microbes that we move through every day. Her story is a testament to the power of persistence and reveals how our relationship with the vast natural world reaches far deeper than we might think.
Praise for The Nature of Life and Death: Every Body Leaves a Trace
A New York Times Book Review New & Noteworthy Pick
One of Science News' Favorite Science Books of the 2019 
"The Nature of Life and Death is one of those extraordinary books that will appeal to almost everyone. If you're a Mary Roach fan, fascinated by the macabre and grotesque, you'll get to follow Wiltshire into mortuaries and watch her pick apart cadavers. If you're a Lab Girl fan, inspired by stories of women blazing new trails in science, that's Wiltshire's entire career. If you're a gardener, you will love knowing how often botany has saved the day. And if you're a crime fiction fan—well, you've found your new favorite sleuth." —The Washington Post 
"Crabby, brilliant and brittle, but also quite tender when it comes to the loss and pain of grieving families, Ms. Wiltshire seems to come straight out of a British detective series. She's an eccentric who, after proving guilt in an Albanian gang murder, goes home, puts on her sweat pants, makes herself a dinner of beans and toast and cuddles with her cat. With a lead character like this, the science and crimes, while highly readable, are mainly stages and props for this engaging and enlightening one-woman show." —The Wall Street Journal 
"A British forensic ecologist, Wiltshire studies the natural world for clues to criminal activity: part Discovery Channel, part "C.S.I." Her autobiography will change the way you view your environment."—The New York Times Book Review
"Weaving science writing with true crime stories, The Nature of Life and Death is a must-read for true crime fans who feel burned out on the genre." —Bustle 
"Enjoy this book. It will leave its trace on you." —Science Magazine 
"Fascinating through and through, the tales Wiltshire shares are worthy of any true-crime novel or TV drama such as NCIS." —Science News
"Wiltshire writes like the scientist she is...the subject matter is fascinating, and Wiltshire makes a good case for curiousity as she steps through the process of tracking details and solving mysteries." —Outside Magazine 
"How this mild-mannered but fiercely dedicated academician came to muck around in woodlands, bogs, and parks searching for clues that would otherwise escape the less botanically astute makes for a fiendishly good memoir. Though many scenes are not for the fainthearted, Wiltshire's truthful and candid attitude provides a stellar glimpse into this fascinating field of criminal investigation." —Booklist 
"[The Nature of Life and Death] is reminiscent at times of Mary Roach's Stiff: The Curious Lives of Human Cadavers and also the television show Bones….Fascinating for readers who enjoy science, including ecology and botany, and who aren't too squeamish." —Library Journal
"An autobiography well supplied with personal opinions along with entertaining if sometimes squirm-inducing triumps of criminal investigation." —Kirkus Reviews
"What is forensice ecology? Wiltshire...answers that question in her gracefully written first book for a general audience....CSI fans will be enthralled." —Publishers Weekly 

"Worthy of any true-crime novel or TV show, this type of clue hunting can be very integral in the field of forensics." —Medical Daily

"This is a deep book, in some respects, but it's also engaging and delightfully nerdy. No true crime fan should be without it. Science lovers will relish it. The Nature of Life and Death should not be left behind." —"Bookworm Sez"
"The Nature of Life and Death draws the reader into the invisible world of a forensic ecologist who utilizes state-of-the-art science to solve grisly crimes that would have otherwise been unsolvable. Fans of true crime such as CSI and Forensic Files will be in for a treat as Pat gives you a personal glimpse into her world and philosophy of life." —Steffanie Strathdee, PhD, and Thomas Patterson, PhD, coauthors of The Perfect Predator: A Scientist's Race to Save Her Husband from a Deadly Superbug 
"Capturing and studying the almost-invisible clues that nature leaves on victim and suspect alike, Wiltshire uses her deep knowledge of botany and palynology to recreate crime scenes and establish the guilt—and sometimes innocence—of the accused. The Nature of Life and Death is a compelling mystery, an ode to the natural world, and an engrossing account of a female scientist whose passion, expertise, and deep curiousity created an entirely new branch of crime solving." —Cat Warren, author of the New York Times bestseller What the Dog Knows: Scent, Science, and the Amazing Ways Dogs Perceive the World