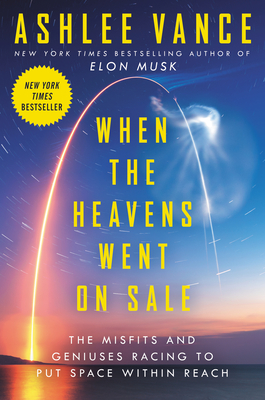 When the Heavens Went on Sale: The Misfits and Geniuses Racing to Put Space Within Reach
Publication Date:
May 9th, 2023
The MIT Press Bookstore
1 on hand, as of Dec 8 10:45am
(GS:CO)
On Our Shelves Now
Description
An Instant New York Times Bestseller
A momentous look at the private companies building a revolutionary new economy in space, from the New York Times bestselling author of Elon Musk
In When the Heavens Went on Sale, Ashlee Vance illuminates our future and unveils the next big technology story of our time: welcome to the Wild West of aerospace engineering and its unprecedented impact on our lives.
With the launch of SpaceX's Falcon 1 rocket in 2008, Silicon Valley began to realize that the universe itself was open for business. Now, Vance tells the remarkable, unfolding story of this frenzied intergalactic land grab by following four pioneering companies—Astra, Firefly, Planet Labs, and Rocket Lab—as they build new space systems and attempt to launch rockets and satellites into orbit by the thousands.
With the public fixated on the space tourism being driven by the likes of Elon Musk, Jeff Bezos, and Richard Branson, these new, scrappy companies arrived with a different set of goals: to make rocket and satellite launches fast and cheap, thereby opening Earth's lower orbit for business. Vance has had a front-row seat and singular access to this peculiar and unprecedented moment in history, and he chronicles it all in full color: the top-secret launch locations, communes, gun-toting bodyguards, drugs, espionage investigations, and multimillionaires guzzling booze to dull the pain as their fortunes disappear.
Through immersive and intimate reporting, When the Heavens Went on Sale reveals the spectacular chaos of the new business of space, and what happens when the idealistic, ambitious minds of Silicon Valley turn their unbridled vision toward the limitless expanse of the stars. This is the tale of technology's most pressing and controversial revolution, as told through fascinating characters chasing unimaginable stakes in the race to space.
Praise for When the Heavens Went on Sale: The Misfits and Geniuses Racing to Put Space Within Reach
"The spectacle of Elon Musk, Jeff Bezos and other technology scions shooting themselves into space may give you the idea that the whole experience is an ego trip, but Vance, the author of a best-selling biography of Musk, encourages readers to think bigger. He follows four companies — Astra, Firefly, Planet Labs and Rocket Lab — in this interplanetary land grab, all with the hope of making Earth's lower orbit the next site of technological innovation." — New York Times ("19 Works of Nonfiction to Read This Spring")
"The book is an illuminating romp through an industry marinated in the signature mix of starry idealism and ruthless capitalism brewed in Silicon Valley in the second half of the 20th century." — The Economist
"Ashlee Vance writes about a new kind of space race marked by private companies launching rockets and putting a massive number of satellites into orbit. The characters behind this new fight to dominate the skies are just as interesting as the ones [Tom] Wolfe wrote about decades ago. . . .Vance's behind-the-scenes access to the companies helps explain the challenges the private space industry faces and propels the book along as he describes failed rocket launches and globe-trotting investors." — Associated Press
"The frenzied race by stargazing entrepreneurs to build a new economy in space is one of the most exciting tales of our time. Ashlee Vance, with his immersive reporting and exuberant writing, has captured the ambition and idealism of the colorful characters who are not only transforming our world but our heavens. It's the next tech frontier, and Vance turns it into a thriller." — Walter Isaacson, bestselling author of Steve Jobs and The Code Breaker
"A new testament for New Space, and an eloquent, expertly-reported ode to the swaggering geniuses who are opening the final frontier." — Brad Stone, bestselling author of The Everything Store and Amazon Unbound
"Vance has delivered that rare book that educates and entertains while opening the reader up to a brand-new universe of wonderful characters and ideas. It's non-fiction that reads like a novel." — Andy Weir, New York Times bestselling author of The Martian and Project Hail Mary
"Through incisive reporting and colorful prose, Ashlee Vance takes us on a thrilling ride to the outer limits of human achievement." — Sheelah Kolhatkar, New Yorker staff writer and bestselling author of Black Edge
"[A] fantastic new book . . . I can highly recommend this book to anyone with an interest in space, especially if you want to know how space startups work behind the public promises and marketing . . . [When the Heavens Went on Sale] provides real insight into these companies and the people who toil in them." — Ars Technica
"[An] energetic account...[Vance] ably captures 'the spectacular madness of it all.' With enthusiasm and solid research, this book is an entertaining, informative look at cutting-edge technology." — Kirkus
"[An] exciting account…[Vance] provides finely observed portraits of the figures behind the aerospace companies…The focus on figures outside the limelight offers a fresh look at the new space race, and Vance's feels-like-you're-there storytelling captures the 'spectacular madness' of the moonshots. It's The Right Stuff for the silicon age." — Publishers Weekly (starred review) 
"Well-researched and insightful. . . . An excellent addition to science or biography collections." — Library Journal
"One of the best books ever written about NewSpace. . . . An incredibly entertaining account of today's space industry. . . . Well-written and thrilling . . . . When the Heavens Went on Sale is a timely read that introduces readers to the exciting business of launching small satellites. The space-based economy is just getting started." — National Space Society
"Vance's book is an exuberant ride, happily hopping around the Pacific Rim from Kwajalein Atoll to California, from New Zealand to Kodiak Island, reveling in the do-it-yourself ethos of the new space business. . . . Vance makes a good case that the new generation of space entrepreneurs has managed to set up the launchpad. Most of the mission is still ahead — but listen closely and you can start to hear the countdown." — New York Times Book Review
"A fascinating read about an emerging, rapidly changing industry . . . . If, for any reason, you thought the people in the space industry were boring, When the Heavens Went on Sale will make it clear they far from it." — The Space Review
"Exhuberant." — Washington Post
"Full of colorful people, risky investments, and teachable explosions, Vance's book is fascinating…" — Philadelphia Inquirer
"The book chronicles an enthralling Wild West of ego, idealism, and regulation-skirting greed, where soaring dreams are weighed down by economics and physics. CEOs, investors, engineers, and welders alike are smitten, but their efforts yield mostly pedestrian tools that track cargo ships, measure crop growth, or make phone calls. Still, the projects keep multiplying. "Something about space," Vance writes, "allows humans to perceive themselves as being part of a timeless story and casting their lot in with the infinite." — Harvard Business Review