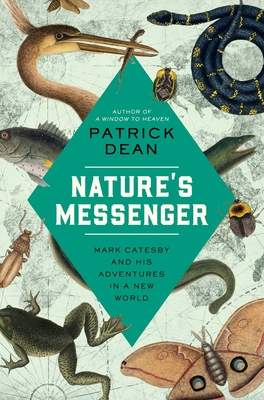 Nature's Messenger: Mark Catesby and His Adventures in a New World
Publication Date:
June 6th, 2023
The MIT Press Bookstore
1 on hand, as of Dec 8 10:45am
(NATUR)
On Our Shelves Now
Description
A dynamic and fresh exploration of the naturalist Mark Catesby—who predated John James Audubon by nearly a century— and his influence on how we understand American wildlife.
In 1722, Mark Catesby stepped ashore in Charles Town in the Carolina colony. Over the next four years, this young naturalist made history as he explored deep into America's natural wonders, collecting and drawing plants and animals which had never been seen back in the Old World. Nine years later Catesby produced his magnificent and groundbreaking book, The Natural History of Carolina, the first-ever illustrated account of American flora and fauna.
 In Nature's Messenger, acclaimed writer Patrick Dean follows Catesby from his youth as a landed gentleman in rural England to his early work as a naturalist and his adventurous travels. A pioneer in many ways, Catesby's careful attention to the knowledge of non-Europeans in America—the enslaved Africans and Native Americans who had their own sources of food and medicine from nature—set him apart from others of his time. 
Nature's Messenger takes us from the rice plantations of the Carolina Lowcountry to the bustling coffeehouses of 18th-century England, from the sun-drenched islands of the Bahamas to the austere meeting-rooms of London's Royal Society, then presided over by Isaac Newton. It was a time of discovery, of intellectual ferment, and of the rise of the British Empire. And there on history's leading edge, recording the extraordinary and often violent mingling of cultures as well as of nature, was Mark Catesby.
Intensively researched and thrillingly told, Nature's Messenger will thrill fans of exploration and early American history as well as appealing to birdwatchers, botanists, and anyone fascinated by the natural world.
Praise for Nature's Messenger: Mark Catesby and His Adventures in a New World
"In Nature's Messenger, Catesby is the avatar of an age of explosive discovery and exchange. Catesby was an important scientist whose work prefigured and informed the better known achievements of Audobon and Lenneaus.  Thanks to Nature's Messenger, Catesby's legacy can now be perused."
— The Times Literary Supplement
"In this enlightening biography, nature writer Dean traces the life of British naturalist Mark Catesby (1683–1749), whose The Natural History of Carolina, Florida, and the Bahama Islands was among the first European accounts of the flora and fauna of the Americas and influenced John James Audubon. An informative account of an important if lesser-known naturalist."
— Publishers Weekly
"Nature's Messenger delivers on the promise of its title and subtitle with a tale of adventure in Colonial America and the Caribbean. The messenger is surpassed by his message in this story of a great book — one created by a talented, if enigmatic and largely forgotten, lover of Southern nature."
— The Chattanooga Times Free Press
Praise for A Window to Heaven
"A stupendous chronicle. A book whose scope, themes, and drama are worthy of Denali itself."
— Kevin Fedarko, author of THE EMERALD MILE
"No matter how many times the Denali story gets told, it never gets old. The trick is to make it new. Outdoors writer Patrick Dean has done just, casting the climb in new light.  The story reverberates today. Dean presents Stuck as an imperfect but still commendable model for our own times. We should pay attention."
— David A. James
"A rich and sensitive portrait. With grace and clarity Dean reveals Hudson Stuck as a missionary-explorer who was both fully of his time and able to recognize some of its deepest prejudices. Wonderful."
— Niel Shea