Preorder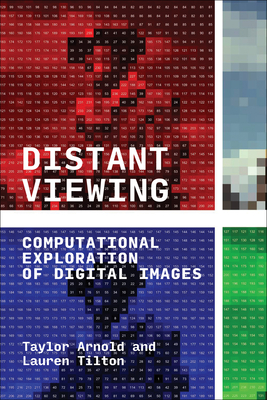 Distant Viewing: Computational Exploration of Digital Images
Publication Date:
October 17th, 2023
Description
A new theory and methodology for the application of computer vision methods to the computational analysis of collected, digitized visual materials, called "distant viewing."
Distant Viewing: Computational Exploration of Digital Images presents a new theory and methodology for the computational analysis of digital images, offering a lively, constructive critique of computer vision that you can actually use. What does it mean to say that computer vision "understands" visual inputs? Annotations never capture a whole image. The way digital images convey information requires what researchers Taylor Arnold and Lauren Tilton call "distant viewing"—a play on the well-known term "distant reading" from computational literary analysis.
Recognizing computer vision's limitations, Arnold and Tilton's spirited examination makes the technical exciting by applying distant viewing to the sitcoms Bewitched and I Dream of Jeannie, movie posters and other popular forms of advertising, and Dorothea Lange's photography. In the tradition of visual culture studies and computer vision, Distant Viewing's interdisciplinary perspective encompasses film and media studies, visual semiotics, and the sciences to create a playful, accessible guide for an international audience working in digital humanities, data science, media studies, and visual culture studies.
About the Author
Taylor Arnold is Associate Professor at the University of Richmond in the interdisciplinary programs in Data Science and Linguistics. A recipient of grants from the NEH and ACLS, Arnold's research focuses on the interdisciplinary study of how messages are communicated through texts and visual media. He has published three books, most recently Layered Lives. 
Lauren Tilton is Associate Professor of Digital Humanities in the Department of Rhetoric and Communication Studies at the University of Richmond. Her research combines American Studies and digital humanities to the study of modern visual culture. She is the author of four books, including Layered Lives.
Together, Arnold and Tilton run the Distant Viewing lab at the University of Richmond.