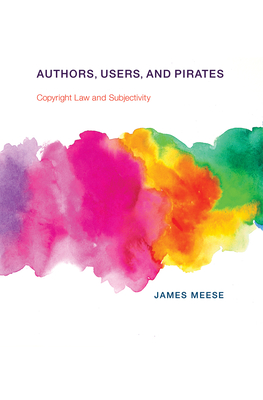 Authors, Users, and Pirates: Copyright Law and Subjectivity (The Information Society Series)
Publication Date:
February 16th, 2018
The MIT Press Bookstore
4 on hand, as of Dec 8 10:45am
(REF)
On Our Shelves Now
Description
An examination of subjectivity in copyright law, analyzing authors, users, and pirates through a relational framework.
In current debates over copyright law, the author, the user, and the pirate are almost always invoked. Some in the creative industries call for more legal protection for authors; activists and academics promote user rights and user-generated content; and online pirates openly challenge the strict enforcement of copyright law. In this book, James Meese offers a new way to think about these three central subjects of copyright law, proposing a relational framework that encompasses all three. Meese views authors, users, and pirates as interconnected subjects, analyzing them as a relational triad. He argues that addressing the relationships among the three subjects will shed light on how the key conceptual underpinnings of copyright law are justified in practice.
Meese presents a series of historical and contemporary examples, from nineteenth-century cases of book abridgement to recent controversies over the reuse of Instagram photos. He not only considers the author, user, and pirate in terms of copyright law, but also explores the experiential element of subjectivity—how people understand and construct their own subjectivity in relation to these three subject positions. Meese maps the emergence of the author, user, and pirate over the first two centuries of copyright's existence; describes how regulation and technological limitations turned people from creators to consumers; considers relational authorship; explores practices in sampling, music licensing, and contemporary art; examines provisions in copyright law for user-generated content; and reimagines the pirate as an innovator.