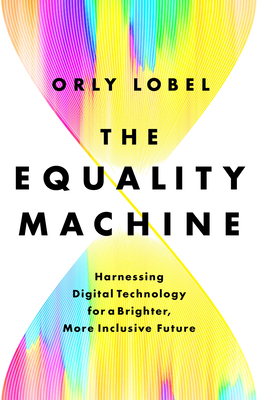 The Equality Machine: Harnessing Digital Technology for a Brighter, More Inclusive Future
Publication Date:
October 18th, 2022
The MIT Press Bookstore
1 on hand, as of Dec 8 10:45am
(DIGST)
On Our Shelves Now
Description
AN ECONOMIST BEST BOOK OF 2022
At a time when AI and digital platforms are under fire, Orly Lobel, a renowned tech policy scholar, defends technology as a powerful tool we can harness to achieve equality and a better future.
Much has been written about the challenges tech presents to equality and democracy. But we can either criticize big data and automation or steer it to do better. Lobel makes a compelling argument that while we cannot stop technological development, we can direct its course according to our most fundamental values.
 
With provocative insights in every chapter, Lobel masterfully shows that digital technology frequently has a comparative advantage over humans in detecting discrimination, correcting historical exclusions, subverting long-standing stereotypes, and addressing the world's thorniest problems: climate, poverty, injustice, literacy, accessibility, speech, health, and safety. 
 
Lobel's vivid examples—from labor markets to dating markets—provide powerful evidence for how we can harness technology for good. The book's incisive analysis and elegant storytelling will change the debate about technology and restore human agency over our values.
Praise for The Equality Machine: Harnessing Digital Technology for a Brighter, More Inclusive Future
"A refreshing counterbalance to alarmist commentary...revealing a hidden world of coders, datascientists and activists who are working on the technical means to achieve ethical ends, not simply griping about #ai's lapses. The book aptly describes the workings of various AI systems, but its main contribution is to reframe problems in constructive ways."
—The Economist
"A masterful analysis…Lobel expertly describes both the opportunities and the discrimination engendered by new technologies, particularly Artificial Intelligence (AI)."—Science Magazine
"A timely book on how we can create technologies that fight bias instead of intensifying it. Orly Lobel offers a compelling vision for a digital future that's fairer to all of us."—Adam Grant, #1 New York Times bestselling author of Think Again and host of the TED podcast WorkLife
"Enthusiastic yet measured argument for technology's potential to promote equality across many facets of culture and industry."—Kirkus
"The Equality Machine is essential reading for personal reading lists as well as professional, governmental, community, and academic library Science & Technology collections."—Midwest Book Review
"What if technology could help? Two decades ago, that idea seemed obvious. Today, it seems impossible. But in this beautifully written and wide-ranging work, Orly Lobel shows how a smart architecting of our technical environment can make us better humans, in a healthier environment. This is critical thinking and insight when — and where — we need it most."—Lawrence Lessig, Roy L. Furman Professor of Law and Leadership, Harvard University
"With great computing power comes great responsibility. The Equality Machine shows how we can direct AI for good and create a society in which our lives are not limited by gender, race, sexuality, age, geography, or ability. As always, Orly Lobel gives us a crystal-clear, front-row seat to our evolving digital realities. A must-read!"—Jonah Berger, Wharton School, University of Pennsylvania, and author of The Catalyst and Contagious
"Artificial intelligence in particular and technology in general are changing almost every aspect of the human experience. Can smarter and smarter machines make life better and better—and not just for the few and the privileged, but for everyone? Lobel offers a compelling, inspiring, and actionable argument that the answer is yes."—Angela Duckworth, University of Pennsylvania, chief scientist, the Character Labor, and author of Grit
"Who should we believe? The glass-half-full people who tell us that AI is going to bring about the next stage of human development, or the glass-half-empty people who tell us that this will be the end of all that is good about humanity? What Lobel shows in The Equality Machine is that the answer is up to us. We can implement AI in ways that deepen our challenges, and we can implement this technology in ways that both fix some of our existing problems and promote our human agenda."—Dan Ariely, author of Predictably Irrational
"The Equality Machine offers a hard-headed yet hopeful analysis of how digitization and artificial intelligence can reduce discrimination and promote opportunity. By rejecting both utopian dreams and dystopian nightmares, Lobel shows that it's up to us to enlist these new technologies as forces for good and engines for progressive values. One of our sharpest legal minds has produced an utterly compelling book."—Daniel H. Pink, #1 New York Times–bestselling author of The Power of Regret, When, and Drive
"With rich and engaging examples, Lobel brings together the too-often siloed debates over fears and hopes about artificial intelligence. With real, human intelligence, she identifies workable guards against gender and racial biases. She also highlights profound moral, political, and technical challenges worth both immediate and long-term attention."—Martha Minow, 300th Anniversary University Professor, dean emeritus, and director, Berkman Klein Center for Internet and Society, Harvard University
"The Equality Machine is beautifully written, brimming with enthusiasm and can-do spirit. Lobel makes a compelling argument that AI can help solve some of our most important social problems, ranging from discrimination to human trafficking. Deeply aware of technology's virtues and limits, Lobel offers singular insights for anyone interested in technology for the public interest."—Frank Pasquale, law professor and author of The Black Box Society
"Most discussions of AI and equality today focus on the negative: how AI systems pose risks of algorithmic bias and discrimination. Without being a tech apologist, Lobel gives us a much-needed dose of the positive: how AI can advance our aspirations for greater equality at work, in healthcare, at home, in our language and imagery, and in our relationships. The Equality Machine will take you on a tour of what people can build when aspiring to use the power of AI to make the world a more equal place. Read it and get inspire to join them."—Gillian Hadfield, director, Schwartz Reisman Institute for Technology and Society, University of Toronto, and senior policy advisor, OpenAI
"Lobel offers a contrarian and original view: that technology can be a foundation for equality and inclusion rather than a source of bias and inequality. Read this book to find out why and how."—Oren Etzioni, CEO, Allen Institute for Artificial Intelligence
"With this incisive and engaging book, Lobel invites academics, nonprofit leaders, investors, business leaders, and policymakers to use data to solve the world's most pressing problems, being neither cavalier nor afraid."—Jonathan Zittrain, faculty director, Berkman Klein Center for Internet and Society, Harvard University, and author of The Future of the Internet
"Finally, a bold, positive, and forward-thinking approach to the challenges we face with automated technology."—Kate Darling, MIT Media Lab and author of The New Breed: What Our History with Animals Reveals About Our Future with Robots
"With provocative insights in every chapter, Lobel masterfully shows that digital technology frequently has a comparative advantage over humans in detecting discrimination, correcting historical exclusions, subverting long-standing stereotypes, and addressing the world's thorniest problems: climate, poverty, injustice, literacy, accessibility, speech, health, and safety.  Lobel's vivid examples—from labor markets to dating markets—provide powerful evidence for how we can harness technology for good. The book's incisive analysis and elegant storytelling will change the debate about technology and restore human agency over our values."—American Law Institute
"Lively and fascinating. An exuberant and insightful account of the bright side of AI and related digital technologies. Whether you're an AI optimist or pessimist, The Equality Machine is essential reading."—Daniel J. Solove, Professor at George Washington University, author of Breached!, founder of TechPrivacy