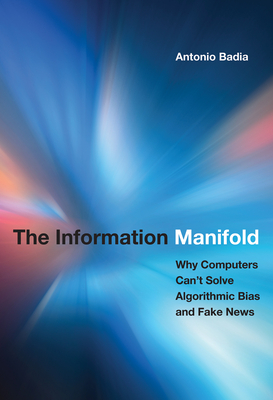 The Information Manifold: Why Computers Can't Solve Algorithmic Bias and Fake News (History and Foundations of Information Science)
Publication Date:
November 5th, 2019
The MIT Press Bookstore
2 on hand, as of Nov 30 10:32am
(SS)
On Our Shelves Now
Description
An argument that information exists at different levels of analysis—syntactic, semantic, and pragmatic—and an exploration of the implications.
Although this is the Information Age, there is no universal agreement about what information really is. Different disciplines view information differently; engineers, computer scientists, economists, linguists, and philosophers all take varying and apparently disconnected approaches. In this book, Antonio Badia distinguishes four levels of analysis brought to bear on information: syntactic, semantic, pragmatic, and network-based. Badia explains each of these theoretical approaches in turn, discussing, among other topics, theories of Claude Shannon and Andrey Kolomogorov, Fred Dretske's description of information flow, and ideas on receiver impact and informational interactions. Badia argues that all these theories describe the same phenomena from different perspectives, each one narrower than the previous one. The syntactic approach is the more general one, but it fails to specify when information is meaningful to an agent, which is the focus of the semantic and pragmatic approaches. The network-based approach, meanwhile, provides a framework to understand information use among agents.
Badia then explores the consequences of understanding information as existing at several levels. Humans live at the semantic and pragmatic level (and at the network level as a society), computers at the syntactic level. This sheds light on some recent issues, including "fake news" (computers cannot tell whether a statement is true or not, because truth is a semantic notion) and "algorithmic bias" (a pragmatic, not syntactic concern). Humans, not computers, the book argues, have the ability to solve these issues.