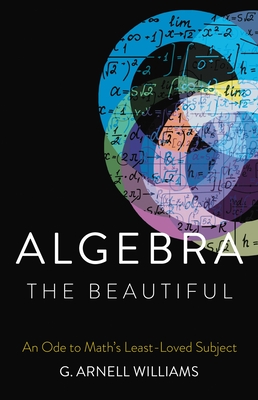 Algebra the Beautiful: An Ode to Math's Least-Loved Subject
Publication Date:
August 23rd, 2022
The MIT Press Bookstore
1 on hand, as of Dec 8 10:45am
(MATH)
On Our Shelves Now
Description
A mathematician reveals the hidden beauty, power, and—yes—fun of algebra  
What comes to mind when you think about algebra? For many of us, it's memories of dull or frustrating classes in high school. Award-winning mathematics professor G. Arnell Williams is here to change that. Algebra the Beautiful is a journey into the heart of fundamental math that proves just how amazing this subject really is.  
Drawing on lessons from twenty-five years of teaching mathematics, Williams blends metaphor, history, and storytelling to uncover algebra's hidden grandeur. Whether you're a teacher looking to make math come alive for your students, a parent hoping to get your children engaged, a student trying to come to terms with a sometimes bewildering subject, or just a lover of mathematics, this book has something for you. With a passion that's contagious, G. Arnell Williams shows how each of us can grasp the beauty and harmony of algebra.
Praise for Algebra the Beautiful: An Ode to Math's Least-Loved Subject
"Algebra the Beautiful is a rich paean within a workbook (of sorts), or possibly a workbook within a paean…. Mr. Williams articulates and affirms his goal, admittedly 'lofty, illusory'—yet attainable, he believes: teaching algebra through fulfilling experiences and unifying ideas."—Siobhan Roberts, Wall Street Journal
"[a] shrewd attempt to win over math averse readers . . . [Williams'] passion is worth sticking around for."—Publishers Weekly
"The book is interesting, parts are beautifully written, and the whole is quite original."—David Mumford, Fields Medal laureate
"G. Arnell Williams has written a book that alters the way students who struggle with algebra should learn the subject. Algebra the Beautiful embraces the foundational contents of a few approachable topics that link to a further complete and deeper understanding of algebra."—Joseph Mazur, professor emeritus, mathematics, Marlboro College, and author of Euclid in the Rainforest
"Anybody who teaches introductory mathematics, whether in fourth grade or at a university, will find much food for thought in this book."—Judith Grabiner, professor emeritus, mathematics, Pitzer College, and fellow of the American Mathematical Society
"Williams provides plenty of 'food-for-thought' for those teachers who wish to teach algebra as more than just a series of algorithms to memorize and aspire to help students learn an algebraic way of thinking."—Tom French, MAA Reviews