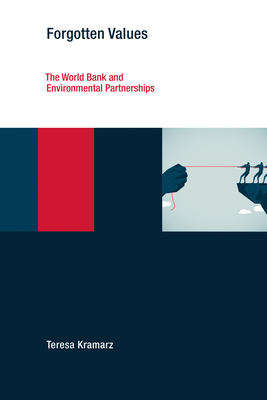 Forgotten Values: The World Bank and Environmental Partnerships (Earth System Governance)
Publication Date:
August 25th, 2020
Special Order - Subject to Availability
Description
An examination of the conflict between values and bureaucracy in World Bank biodiversity partnerships.
Multi-stakeholder partnerships have become an increasingly common form of global governance. Partnerships, usually between international organizations (IOs) or state agencies and such private actors as NGOs, businesses, and academic institutions, have even been promoted as the gold standard of good governance—participatory, innovative, and well-funded. And yet these partnerships often fail to live up to the values that motivated their establishment. In this book, Teresa Kramarz examines this gap between promise and performance by analyzing partnerships in biodiversity conservation initiatives launched by the World Bank.
Kramarz reviews World Bank biodiversity partnerships over a twenty-year period, with in-depth studies of two: the Critical Ecosystem Partnership Fund and the Global Invasive Species Program. She finds that partnerships fall short when established in the shadow of a large, mature bureaucracy. Bureaucrats have trouble relinquishing control, and they distrust partners who do not abide by set policies and procedures. The partnership's potential contribution to biodiversity conservation succumbs to the goals of bureaucratic efficiency. Kramarz develops a theoretical framework to explain the gap between values and practice, combining rationalist and constructivist approaches. Viewing World Bank biodiversity partnerships through this theoretical lens, she shows how the World Bank's risk aversion, hierarchy, focus on rules and procedures, and division of labor have a significant influence on partnership outcomes.
Praise for Forgotten Values: The World Bank and Environmental Partnerships (Earth System Governance)
"Grounded in the sociology of institutions and careful empirical examination of twenty years of practice, Forgotten Values is a compelling, lucid account of why the World Bank's partnerships on biodiversity fall short of their promise to deliver democratic, innovative, and financially sustainable solutions to global collective problems."
—Karin Bäckstrand, Professor of Environmental Social Science, Stockholm University
 
"Forgotten Values brilliantly demonstrates how the bureaucratic organizational logic of the World Bank comes to dominate the biodiversity partnerships it sponsors, undercutting the very goals of democratization, innovation, and resource mobilization that prompted reliance on partnerships in the first place."
—Kenneth Abbott, Jack E. Brown Chair in Law Emeritus, Arizona State University
 
"Full of well-researched insights into the self-interest of large bureaucracies, Forgotten Values adds a critical tone to the prevailing assessments of multistakeholder partnerships as panacea for complex global challenges in times of reduced international cooperation."
—Philipp Pattberg, Professor of Transnational Environmental Governance and Policy, Institute for Environmental Studies, and Director, Amsterdam Sustainability Institute, Vrije Universiteit Amsterdam