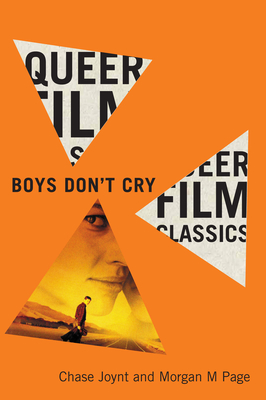 Boys Don't Cry (Queer Film Classics #2)
Publication Date:
June 15th, 2022
Publisher:
McGill-Queen's University Press
The MIT Press Bookstore
1 on hand, as of Dec 8 10:45am
(AT:FL)
On Our Shelves Now
Description
Hailed as groundbreaking upon its original release, the Oscar-winning film Boys Don't Cry offered the first mainstream access to transmasculine embodiment in North America, one that many simultaneously celebrated and rejected. More than two decades after its original release, the film has become a lightning rod for contemporary debates about the representation of trans lives and deaths on screen.Representational possibilities for trans people have changed dramatically since 1999. Morgan Page and Chase Joynt approach the accumulated tension with a spirit of curiosity about the limits of these historical returns. They argue that new visibilities of transness on screen require us to re-engage earlier portrayals: Boys Don't Cry is central to conversations about casting, violence against gender non-conforming people, and the borders between butch and trans identities. Acknowledging a younger generation of queer and trans people who are straining against the images foisted upon them, including this film's egregious violence, and an older cohort for whom it remains a formative, if complicated, touchstone, Joynt and Page revisit the original contexts of production and distribution to unsettle the overdetermined ways the work has been understood and interpreted.Boys Don't Cry ultimately relocates the film in a way that attends to the story's violence and values, both on and off screen.
Praise for Boys Don't Cry (Queer Film Classics #2)
"A much-needed intervention into the kneejerk reactions to Boys Don't Cry that moves the critical discussion out of the cycle of antagonism that has spiralled around the film since its release." Cael Keegan, Grand Valley State University
"A thorough and insightful discussion of the films strength's and weaknesses, and a manifesto for future trans representation." Times Literary Supplement
"This thoughtful and insightful book reframes and deepens the conversation about Boys Don't Cry. Joynt and Page make a strong case for reading the film's influence in ways that break the long-established impasse of the 'butch/FTM' border wars. A useful guide to a major filmic text." Susan Stryker, author of Transgender History: The Roots of Today's Revolution