Discounted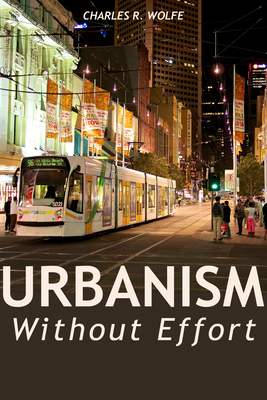 Urbanism Without Effort: Reconnecting with First Principles of the City
Previous price:

$22.00
Current price:

$20.00
Publication Date:
January 31st, 2019
The MIT Press Bookstore
2 on hand, as of Dec 8 10:45am
(URBAN)
On Our Shelves Now
Description
How do you create inviting and authentic urban environments where people feel at home? Countless community engagement workshops, studies by consulting firms, and downtown revitalization campaigns have attempted to answer this age-old question. In Urbanism Without Effort, Chuck Wolfe argues that "unplanned" places can often teach us more about great placemaking than planned ones.
 
From impromptu movie nights in a Seattle alley to the adapted reuse of Diocletian's Palace in Split, Croatia, Wolfe searches for the "first principles" of what makes humans feel happy and safe amid the hustle and bustle of urban life. He highlights the common elements of cities around the world that spontaneously bring people together: being inherently walkable, factors that contribute to safety at night, the importance of intersections and corners, and more. In this age of skyrocketing metropolitan growth, he argues, looking to the past might be our best approach to creating the urban future we dream about.
 
A whirlwind global tour, Urbanism Without Effort offers readers inspiration, historical context, and a better understanding of how an inviting urban environment is created.
 
Praise for Urbanism Without Effort: Reconnecting with First Principles of the City
"A plea for a renewed commitment to authentic urbanism and an invitation to learn from history as our cities enter a future of unprecedented change."
— Alex Steffen, author of "Carbon Zero: Imagining Cities that Can Save the Planet"
"One of Chuck Wolfe's great gifts is an extraordinary photographer's eye for capturing visual images of everyday, but evocative, city life. Another is an uncommonly strong intellectual grounding in urban planning theory. In Urbanism Without Effort, he combines the two in unique fashion to show us how unplanned places can often teach us more about great placemaking than planned ones."
— Kaid Benfield, senior counsel, environmental strategies at PlaceMakers, LLC, and former director for sustainable communities, NRDC
"Chuck's work is what happens when art meets science in placemaking. His talent for capturing places being themselves is so important in the placemaker's toolkit, yet can be missed if we are not paying attention. Lucky for us, Chuck is always paying attention and this book is the proof."
— Dr. Katherine Loflin, The City Doctor
"Wolfe provides something rare in contemporary urbanist writing—rich illustrations and examples from real life—both historical and current. His writing about the past and the future of urban form offers readers inspiration, historical context, and a better understanding of how a sustainable, inviting urban environment is created."
— Eco-Libris
"Readers will come away motivated to find, experience and document their own favourite places and find ways to apply effortless urbanism in their own neighbourhood."
— Spacing
"...a book of inspiration and aspiration. It makes the reader yearn for places with soul."
— Better Cities & Towns
"...a great ground-level look at how neighborhoods and communities can foster flourishing life in the city."
— Can't Catch My Breath
"Wolfe's excellent book provides a set of startup examples for improving American urban and suburban sustainable reconnections. I recommend this book as a continuation of the positive movement toward sustainable communities."
— Journal of the American Planning Association