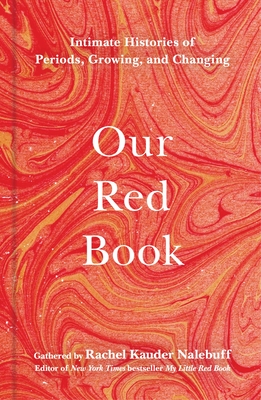 Our Red Book: Intimate Histories of Periods, Growing & Changing
Publication Date:
November 1st, 2022
Publisher:
Simon & Schuster
The MIT Press Bookstore
1 on hand, as of Dec 8 10:45am
(SS)
On Our Shelves Now
Description
A collection of essays, oral histories, and artworks about periods across all stages of life, gathered by the editor of the New York Times bestselling anthology My Little Red Book.
After hearing a harrowing coming-of-age story from her great aunt, Rachel Kauder Nalebuff started gathering stories about menstruation in her family that had never been told. What began as an oral history project quickly snowballed: Rachel heard from family and friends, and then from strangers—writers, experts, community leaders, activists, young people, and other visionaries—about the most intimate physical transformations in their lives.
Our Red Book takes us through stories of first periods, last periods, missing periods, and everything about bleeding that people wish they had been told. Weaving together powerful voices—from teenagers, midwives, Indigenous scholars, Olympic athletes, incarcerated writers, disoriented fathers, elected leaders who fought to make period products free, friends transitioning genders, grandmothers, and lovers—the book invites us on a collective journey of growth and change, with Rachel's own voice as a guide.
The result is a people's history of menstruation, told through an array of perspectives and identities that span the globe. Gathered over twenty years, the collection takes stock of our shifting relationships to family, cultural inheritance, gender, aging, and liberation.
Praise for Our Red Book: Intimate Histories of Periods, Growing & Changing
Selected by the San Francisco Chronicle as a best book of 2022
"Powerful…. Bold and candid, these missives go a long way in breaking through what one contributor calls 'the taboo of bleeding.'"—Publishers Weekly, *starred review*
"A gold mine of (fascinating!) information on everything from first periods to missed periods to lack of product access to periods for transgender and nonbinary folks. In a year when women's rights were diminished (yet again), Rachel Kauder Nalebuff's book should be at the top of your reading pile."—San Francisco Chronicle
"Eye-opening, provocative, and emotionally resonant....The factors that shroud menstruation in secrecy, and give rise to shame and embarrassment, are deconstructed, making Our Red Book instructive as a primer for young people. What's more, trans narratives and narratives from non-western writers enhance and expand readers' understanding of the ways periods are treated and experienced. This diversity is part of what makes Our Red Book so important."—The Progressive
"A vibrant collection of stories evoking joy, dread, loss, and celebration that will resonate with many."—Library Journal 
PRAISE FOR MY LITTLE RED BOOK
"Silence about the healthiest of things can make them seem shameful. My Little Red Book turns shame into celebration."--Gloria Steinem
"Seldom can a book stretch to accommodate both its author's and its publisher's fondest hopes: that it be original yet universal, artistic yet practical, and likely to sell briskly for centuries to come... It is hard to imagine any woman, from the most straitlaced and body-denying to the most uninhibited and body-embracing, who will not read right through it with pure enjoyment, small flashes of recognition and the urge to buy it for every female preteen in sight... "--The New York Times
"Some girls dread their periods, some girls crave them, some girls think they're not normal until they get their periods, and some fear they're abnormal when they do get them. MY LITTLE RED BOOK takes a little of that mystery away, replacing it with humor and information - not just about tampons, but also about how girls in Kenya, New Zealand, Brooklyn, and Oklahoma reacted to their first visit from Aunt Flo. The book would make a good addition to a first-period kit."--Jezebel.com
"Western readers will find the global perspectives eye-opening... The authors' candor and accessibility and the extensive appended resource sections make this an obvious choice for teens... A rich, welcome collection for readers of various ages and, perhaps surprisingly, more than one gender."--Booklist