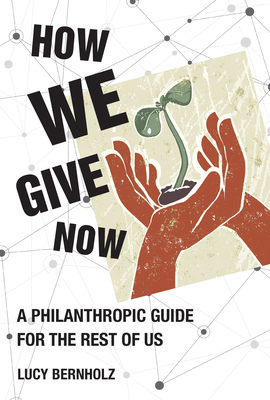 How We Give Now: A Philanthropic Guide for the Rest of Us
Publication Date:
August 15th, 2023
The MIT Press Bookstore
2 on hand, as of Dec 8 10:45am
(NEWM)
On Our Shelves Now
Description
From Go Fund Me to philanthropy: the everyday ways that we can give our money, our time, and even our data to help our communities and seek justice.
In How We Give Now, Lucy Bernholz shows that philanthropy is more than writing a check and claiming a tax deduction. For most of us--the non-wealthy givers--philanthropy can be a way of living our values and fully participating in society. We give in all kinds of ways--shopping at certain businesses, canvassing for candidates, donating money, and making conscious choices with our retirement funds. We give our cash, our time, and even our data to make the world a better place. Bernholz takes readers on a tour of the often-overlooked worlds of participatory philanthropy, learning from a diverse group of forty resourceful givers.
Donating our digitized personal data is an emerging form of philanthropy, and Bernholz describes safe, equitable, and effective ways of doing so--giving genetic data for medical research through a nonprofit genetics organization rather than a commercial one, for example, or contributing photographs to an online archive like the Densho Digital Repository, which documents America's internment of 120,000 Americans of Japanese descent. Bernholz tells us to "follow the money," however, when we're asked to "add a dollar" to our total at the cash register, or when we buy a charity-branded product; it's more effective to give directly than to give while shopping.
Giving is a form of participation. Philanthropy by the rest of us--across geographies and cultural traditions--begins with and builds on active commitment to our communities.
About the Author
Lucy Bernholz is Senior Research Scholar at the Stanford University Center on Philanthropy and Civil Society, where she directs the Digital Civil Society Lab. She is the author of Creating Philanthropic Capital Markets: The Deliberate Evolution.