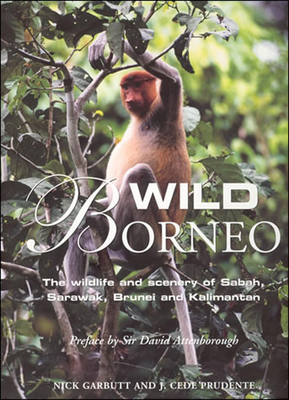 Wild Borneo: The Wildlife and Scenery of Sabah, Sarawak, Brunei, and Kalimantan
Publication Date:
July 7th, 2006
Special Order - Subject to Availability
Description
A celebration of Borneo's natural wonders, from its rainforest-covered lowland areas to its mountain ranges, highland areas, and winding rivers, with over 200 stunning color photographs.
The island of Borneo is a place of great natural beauty and rich biodiversity. From the peaks of the majestic Mount Kinabalu to the enchanting coral-fringed islands that lie offshore, with vast tracts of lush rainforest in between, Borneo's landscape is as varied as it is magnificent. In Wild Borneo, author Nick Garbutt embarks upon a fascinating investigation into the wonders of this island, exploring every aspect of Borneo's terrain, from its rainforest-covered lowland areas to its mountain ranges, highland areas, and winding rivers. He shows us the profusion of flora and fauna living within these habitats, including the enormous Rafflesia flower, the carnivorous Pitcher plants, snakes, frogs and lizards that fly, fish that walk on mud, and rich and varied bird life. The island is home to a diversity of mammal species, some of which are highly unusual, including the outrageous-looking Proboscis Monkey, the remarkably tolerant Bornean Pygmy Elephant, the diminutive and shaggy Sumatran Rhinoceros, the native Bornean Orang-utan, and the doe-eyed, endearing Slow Loris. Published in association with the World Wildlife Fund for Nature, Wild Borneo also examines the ongoing attempts to preserve the island's natural resources in the face of commercial logging and large-scale land clearing. Illustrated with more than 200 stunning photographs, this book offers a vivid celebration of Borneo's many natural wonders.
About the Author
Nick Garbutt is an award-winning wildlife author and photographer. He contributes articles and photographs to numerous magazines worldwide and is a Special Lecturer in Wildlife Photography at Nottingham University. Author of the acclaimed Mammals of Madagascar, he has twice been a winner of the BBC Wildlife Photographer of the Year Competition.
Cede Prudente is a professional conservationist and photographer. His photograph of a swinging orangutan won the Best Still Photography Award at the 2007 Wildlife Asian Film Festival.