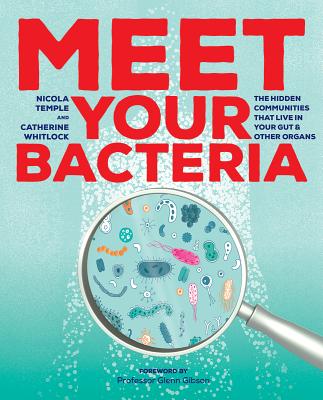 Meet Your Bacteria: The Hidden Communities That Live in Your Gut and Other Organs
Publication Date:
September 1st, 2018
The MIT Press Bookstore
1 on hand, as of Dec 8 10:45am
(JR:HB)
On Our Shelves Now
Description
A fascinating examination of the three pounds of bacteria living in a typical human being.
We are a society obsessed with cleanliness -- but is this a healthy obsession? Do we use antibacterial products correctly? Should my child wash her hands after playing in the park? Why does my doctor insist that I finish the bottle of antibiotics even though I feel better? What is Lactobacillus? And superbugs?
The human body plays host to trillions of bugs -- living microorganisms too tiny to see -- including our own personal, unique set of bacteria. We're only just beginning to understand the important role these bacteria play in human health.
This highly topical and accessible book covers bacteria from all angles and includes:
The different bacteria that live on and in various parts of your body (not just in the gut)
What these bacteria do, and why some are beneficial and some harmful
Practical advice for promoting the good and inhibiting the bad bacteria
The latest thinking on "clean" environments and the links between bacteria and disease
Bacteria in pregnancy and birth and how children's bacteria set them up for life
The causes of an unhealthy gut, including travel, eating a different diet, prolonged stress, intestinal parasites and improper use or overuse of antibiotics
The current research, including fecal transplantation from a healthy person's gut flora to that of an unhealthy gut
The difference between prebiotics and probiotics and their health benefits, and much more.
Advertisers insist that bacteria are bad. Are they? Meet Your Bacteria has the answers.
About the Author
Catherine Whitlock is a science writer with a BSc in Biological Sciences and a PhD in Immunology. She writes on science, medicine and nature and is based in Kent, England. She is the co-author of Meet Your Hormones with Nicola Temple. Nicola Temple worked as a conservation biologist before becoming a full-time writer specializing in science and the environment. She has an MSc in Biological Sciences and lives in Bristol, England. Professor John Wass is the Professor of Endocrinology at Oxford University and was the head of the Department of Endocrinology at the Oxford Centre for Diabetes, Endocrinology and Metabolism, Churchill Hospital Oxford, UK, until 2011. He is currently the Clinical Reference Group Chair for Endocrinology in the UK.