Discounted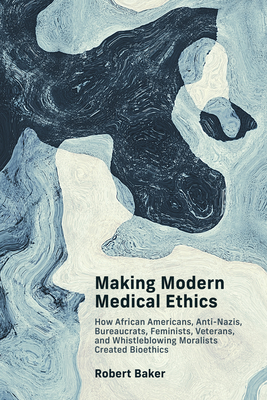 Making Modern Medical Ethics: How African Americans, Anti-Nazis, Bureaucrats, Feminists, Veterans, and Whistleblowing Moralists Created Bioethics (Basic Bioethics)
Previous price:

$55.00
Current price:

$50.00
Publication Date:
February 20th, 2024
Description
The little-known stories of the people responsible for what we know today as modern medical ethics.
In Making Modern Medical Ethics, Robert Baker tells the counter history of the birth of bioethics, bringing to the fore the stories of the dissenters and whistleblowers who challenged the establishment. Drawing on his earlier work on moral revolutions and the history of medical ethics, Robert Baker traces the history of modern medical ethics and its bioethical turn to the moral insurrections incited by the many unsung dissenters and whistleblowers: African American civil rights leaders, Jewish Americans harboring Holocaust memories, feminists, women, and Anglo-American physicians and healthcare professionals who were veterans of the World Wars, the Cold War, and the Vietnam War.
The standard narrative for bioethics typically emphasizes the morally disruptive medical technologies of the latter part of the twentieth century, such as the dialysis machine, the electroencephalograph, and the ventilator, as they created the need to reconsider traditional notions of medical ethics. Baker, however, tells a fresh narrative, one that has historically been neglected (e.g., the story of the medical veterans who founded an international medical organization to rescue medicine and biomedical research from the scandal of Nazi medicine), and also reveals the penalties that moral change agents paid (e.g., the stubborn bureaucrat who was demoted for her insistence on requiring and enforcing research subjects' informed consent). Analyzing major statements of modern medical ethics from the 1946–1947 Nuremberg Doctors Trials and Nuremberg Code to A Patient's Bill of Rights, Making Modern Medical Ethics is a winning history of just how respect and autonomy for patients and research subjects came to be codified.