Discounted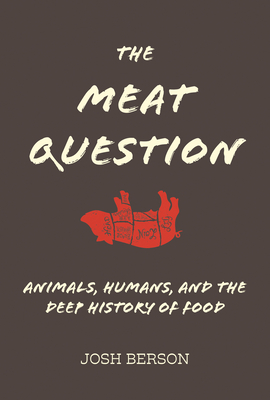 The Meat Question: Animals, Humans, and the Deep History of Food
Previous price:

$29.95
Current price:

$27.95
Publication Date:
October 22nd, 2019
The MIT Press Bookstore
1 on hand, as of Jun 3 1:37pm
(GAST)
On Our Shelves Now
Description
A provocative argument that eating meat is not what made humans human and that the future is not necessarily carnivorous.
Humans are eating more meat than ever. Despite ubiquitous Sweetgreen franchises and the example set by celebrity vegans, demand for meat is projected to grow at twice the rate of demand for plant-based foods over the next thirty years. Between 1960 and 2010, per capita meat consumption in the developing world more than doubled; in China, meat consumption grew ninefold. It has even been claimed that meat made us human—that our disproportionately large human brains evolved because our early human ancestors ate meat. In The Meat Question, Josh Berson argues that not only did meat not make us human, but the contemporary increase in demand for meat is driven as much by economic insecurity as by affluence. Considering the full sweep of meat's history, Berson concludes provocatively that the future is not necessarily carnivorous.
Berson, an anthropologist and historian, argues that we have the relationship between biology and capitalism backward. We may associate meat-eating with wealth, but in fact, meat-eating is a sign of poverty; cheap meat—hunger killing, easy to prepare, eaten on the go—enables a capitalism defined by inequality. To answer the meat question, says Berson, we need to think about meat-eating in a way that goes beyond Paleo diets and PETA protests to address the deeply entwined economic and political lives of humans and animals past, present, and future.
About the Author
Josh Berson is an independent social scientist. He has held research appointments at the Berggruen Institute and the Max Planck Institute for Human Cognitive and Brain Sciences, among other places. He is the author of Computable Bodies: Instrumented Life and the Human Somatic Niche.
Praise for The Meat Question: Animals, Humans, and the Deep History of Food
After reading The Meat Question, I have a better understanding of why it is not effective to use single issue arguments like health, environment, climate change and animal cruelty to convince people to reduce or eliminate their animal consumption…Berson shows us how to think about eating animals in broader terms.—Truthdig—
Josh Berson's 'The Meat Question: Animals, Humans, and the Deep History of Food,' helped me see that the evidence for meat-eating's "rightness" for humans is thin.
—Slate—