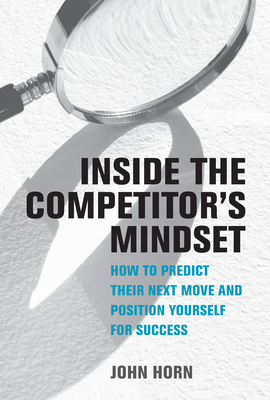 Inside the Competitor's Mindset: How to Predict Their Next Move and Position Yourself for Success (Management on the Cutting Edge)
Publication Date:
April 11th, 2023
The MIT Press Bookstore
3 on hand, as of Dec 8 10:45am
(BUSIN)
On Our Shelves Now
Description
When it comes to competitive strategy, knowing what your competition is doing is good; understanding why they do what they do and predicting what they are going to do next is best.
Leading companies invest a lot of resources into competitive intelligence, so why are they still caught off guard by the actions and reactions of their competitors?
 
In Inside the Competitor's Mindset, John Horn shares proven techniques to help businesses think like the competition and understand why they act the way they do. The keys to unlocking this mindset are cognitive empathy and a strategic approach to competitive insight that focuses on the "why" of a competitor's move, and not just on "what happened."
 
Inside the Competitor's Mindset presents a systematic approach to competitive intelligence that starts with three frameworks to get inside the competitor's mindset, predict their reactions to your moves, and assess whether the competition is getting ready for a spontaneous move of their own. Horn also demonstrates the importance of collecting forward-looking, predictive data; explains how to use war games, Black Hat exercises, mock negotiations, and premortems to build competitive insight; and makes the case for creating a dedicated competitive insight function within the organization.
 
When every move matters, staying a step ahead of the competition is critical. Inside the Competitor's Mindset prepares leaders from any industry to be ready when it is time to act (and react) in the competitive market.
 
Reading this book will empower you to
  •  learn where to look for competitive insights, regardless of your industry, whether you (or your competitors) are a public or private company;
  •  anticipate how competitors will react to moves you make, and whether they are about to make a bold first move;
  •  apply lessons from archaeologists, paleontologists, NICU nurses, and homicide detectives to better gather and analyze information when you can't ask direct questions;
  •  design and operate strategic exercises to gain competitive insight; and
  •  build up a competitive insight function within your organization.