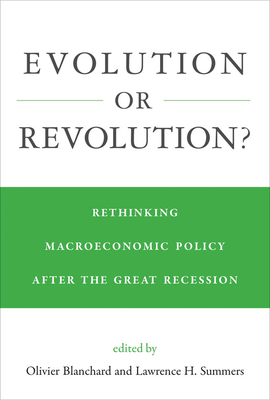 Evolution or Revolution?: Rethinking Macroeconomic Policy after the Great Recession
Publication Date:
April 16th, 2019
The MIT Press Bookstore
1 on hand, as of Nov 30 10:32am
(ECON)
On Our Shelves Now
Description
Leading economists discuss post–financial crisis policy dilemmas, including the dangers of complacency in a period of relative stability.
The Great Depression led to the Keynesian revolution and dramatic shifts in macroeconomic theory and macroeconomic policy. Similarly, the stagflation of the 1970s led to the adoption of the natural rate hypothesis and to a major reassessment of the role of macroeconomic policy. Should the financial crisis and the Great Recession lead to yet another major reassessment, to another intellectual revolution?  Will it?  If so, what form should it, or will it, take? These are the questions taken up in this book, in a series of contributions by policymakers and academics. 
The contributors discuss the complex role of the financial sector, the relative roles of monetary and fiscal policy, the limits of monetary policy to address financial stability, the need for fiscal policy to play a more active role in stabilization, and the relative roles of financial regulation and macroprudential tools. The general message is a warning against going back to precrisis ways—to narrow inflation targeting, little use of fiscal policy for stabilization, and insufficient financial regulation.
Contributors
David Aikman, Alan J. Auerbach, Ben S. Bernanke, Olivier Blanchard, Lael Brainard, Markus K. Brunnermeier, Marco Buti, Benoît Cœuré, Mario Draghi, Barry Eichengreen, Jason Furman, Gita Gopinath, Pierre-Olivier Gourinchas, Andrew G. Haldane, Philipp Hildebrand, Marc Hinterschweiger, Sujit Kapadia, Nellie Liang, Adam S. Posen, Raghuram Rajan, Valerie Ramey, Carmen Reinhart, Dani Rodrik, Robert E. Rubin, Jay C. Shambaugh, Tharman Shanmugaratnam, Jeremy C. Stein, Lawrence H. Summers
About the Author
Olivier Blanchard is C. Fred Bergsten Senior Fellow at the Peterson Institute for International Economics in Washington, DC. He was Chief Economist at the International Monetary Fund from 2008 to 2015.
Lawrence H. Summers is Charles W. Eliot Professor and President Emeritus at Harvard University. He served as Secretary of the Treasury in the Clinton administration and as Director of the National Economic Council in the Obama administration.
Praise for Evolution or Revolution?: Rethinking Macroeconomic Policy after the Great Recession
This thought-provoking and acccessible collection of reflections by economists, central bankers, and government officials explores how the unusual circumstances that have characterized the global economy since 2007 should change economists' understanding of macroeconomic policy.—Foreign Affairs—