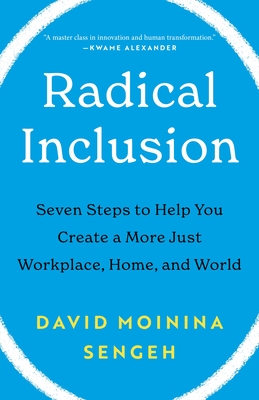 Radical Inclusion: Seven Steps to Help You Create a More Just Workplace, Home, and World
Publication Date:
May 2nd, 2023
Publisher:
Flatiron Books: A Moment of Lift Book
The MIT Press Bookstore
1 on hand, as of Dec 5 4:07pm
(SS)
On Our Shelves Now
Description
BEST BOOKS OUT THIS WEEK, KIRKUS CRITIC'S PICKS

"Using stories and examples, David Moinina Sengeh presents seven principles for radical inclusion that are AS ACTIONABLE AS THEY ARE POWERFUL." ―Brené Brown
"This book is a master class in innovation and human transformation." ―Kwame Alexander
​Can you imagine a world where everyone belongs?
Readers who have encountered this extraordinary book after seeing it featured on the Today Show and at packed events across the country are discovering that Radical Inclusion is unlike any book they've ever read before – and is the book we all most need now. David Moinina Sengeh has written a page-turning and deeply human story that gives a remarkable blueprint we can apply to our daily lives.
Inspiring, moving, and often humorous, the book includes wonderful stories and anecdotes that show us specific techniques to make our homes, workplaces, and communities happier and more just places for everyone. Sengeh takes us with him on his own remarkable journey as he learns how to:
1. Identify the exclusion
2. Listen, to understand and learn
3. Define your role – why you, why now?
4. Build a coalition
5. Pursue advocacy and action
6. Adapt to a new normal
7. See beyond inclusion
Get ready to be inspired by David Moinina Sengeh and his vision for Radical Inclusion. In a career spanning the globe, he has empowered girls through universal education and advocacy. Now YOU can learn from his experiences through his book, Radical Inclusion, the first release from Moment of Lift Books, created by Melinda French Gates.
Praise for Radical Inclusion: Seven Steps to Help You Create a More Just Workplace, Home, and World
"Melinda French Gates... hopes readers discover, after reading Radical Inclusion... that 'equality's in our reach.'" —People
"Many of us talk about inclusion but only dwell in the hope and dream of it. With a poet's heart and a scientist's mind, this book shows us how to genuinely practice it.... Radical Inclusion is both a memoir and a master class in innovation and human transformation. Like Frantz Fanon and the great African thinkers before him, Sengeh has written a practical textbook for advocates, activists, and allies who truly want to make the world a better place." —Oprah Daily
"An optimistic approach to fostering greater inclusion. … Inspirational, motivating, and intellectually sound, Sengeh's instructional guidance seeks to inspire systemic change and encourages readers to fight for diversity and equity in their own communities. Proactive, pragmatic initiatives promoting radical inclusivity across social divides." —Kirkus
"Many talk about inclusion, but only dwell in the hope and dream of it. David Moinina Sengeh lives in the active pursuit of a just society. Deftly chronicling the experiences and study that have shaped him, he shows us, with a poet's heart and a scientist's mind how to genuinely practice radical inclusion. This book is a master class in innovation and human transformation. Like Fanon and the great African thinkers before him, he has written a rich and practical textbook for advocates, activists, and allies in the struggle for freedom and equality." —Kwame Alexander, #1 New York Times bestselling author of The Door of No Return
"Because we are hardwired for belonging, exclusion will always create suffering – and not just for the excluded. Injustice eventually corrodes everyone's sense of safety and wellbeing. Using stories and examples, David Moinina Sengeh presents seven principles for radical inclusion that are as actionable as they are powerful. The commitment to intentional and persistent action presented in this book is exactly how we create a more just and loving world." —Brené Brown, PhD, MSW, author of the #1 New York Times bestseller, Dare to Lead
"This illuminating book lays bare the ways in which exclusion affects all of us — and it demonstrates the transformative power of empathy, courage, and authenticity. In a world
where inclusion and representation remain radical ideas, we need more visionary leaders like David Moinina Sengeh." —Darren Walker, President, Ford Foundation
"In this intensely moving and powerful book, David Moinina Sengeh offers his wisdom and insights into how to be more inclusive and equitable in our daily lives. Radical Inclusion inspires readers to follow Sengeh's guidance at home and at work." —Anna Malaika Tubbs, New York Times bestselling author of The Three Mothers
"Challenges us all to pay attention to who's being left out and offers guidelines for inviting them in." ―Adam Grant, #1 New York Times bestselling author of Think Again
"[A] recommended read" ―Idris Elba