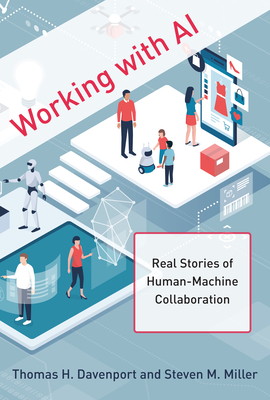 Working with AI: Real Stories of Human-Machine Collaboration (Management on the Cutting Edge)
Publication Date:
September 27th, 2022
The MIT Press Bookstore
6 on hand, as of Dec 4 10:31am
(CS)
On Our Shelves Now
Description
Two management and technology experts show that AI is not a job destroyer, exploring worker-AI collaboration in real-world work settings.
This book breaks through both the hype and the doom-and-gloom surrounding automation and the deployment of artificial intelligence-enabled—"smart"—systems at work. Management and technology experts Thomas Davenport and Steven Miller show that, contrary to widespread predictions, prescriptions, and denunciations, AI is not primarily a job destroyer. Rather, AI changes the way we work—by taking over some tasks but not entire jobs, freeing people to do other, more important and more challenging work. By offering detailed, real-world case studies of AI-augmented jobs in settings that range from finance to the factory floor, Davenport and Miller also show that AI in the workplace is not the stuff of futuristic speculation. It is happening now to many companies and workers. 
 
These cases include a digital system for life insurance underwriting that analyzes applications and third-party data in real time, allowing human underwriters to focus on more complex cases; an intelligent telemedicine platform with a chat-based interface; a machine learning-system that identifies impending train maintenance issues by analyzing diesel fuel samples; and Flippy, a robotic assistant for fast food preparation. For each one, Davenport and Miller describe in detail the work context for the system, interviewing job incumbents, managers, and technology vendors. Short "insight" chapters draw out common themes and consider the implications of human collaboration with smart systems.
Praise for Working with AI: Real Stories of Human-Machine Collaboration (Management on the Cutting Edge)
Included in The Enterprisers Project's "10 must-read tech books for 2023"
Included in McKinsey's Summer 2023 Reading List
"The book is aimed at managers, consultants and students planning their careers...I appreciated the accessible narratives as a diverse survey of how current technologies can expand the range of human capabilities."
—The Wall Street Journal
"When pictures are painted in such extremes of light and shade it's time to call in the experts, and in Working with AI: Real Stories of Human-Machine Collaboration, we benefit not just from the hard-won wisdom of two leaders in the field – Thomas H Davenport and Steven M Miller – but also of the people involved in the dozens of case studies presented that detail real-world applications of AI in the commercial, research and administrative space. What the authors call 'real stories of human-machine collaboration' come together over nearly 300 pages of analysis and insight to produce one of the most balanced narratives of AI in the workplace produced to date."
—E&T Magazine
"While AI has been part of Alight's ecosystem for years, this book examines how AI will change the way we work, but not necessarily destroy the way we work."
—McKinsey

"Working with AI is by and large a hopeful work about human-machine collaboration, emphasizing that there are still many things that machines simply cannot do — from understanding context to managing organizational change to understanding emotional situations — and thus they will still depend on humans as much as we rely on them. That will likely remain true for us, our children, and our grandchildren."
—Civil Engineering
"Why you should read it: Curious about the implications of human collaboration with smart systems? This book shares specific use cases of humans working with AI successfully, e.g., a digital system for life insurance underwriting that analyzes applications and third-party data in real-time, allowing human underwriters to focus on more complex cases. Read this book if you want reassurance on the positive potential outcomes of AI versus the ominous view that artificial intelligence is a job stealer.
—The Enterprisers Project