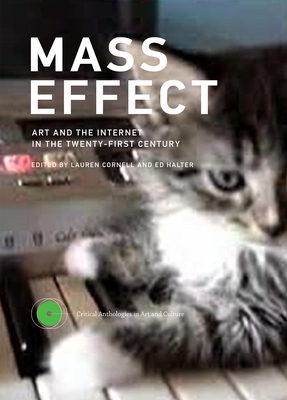 Mass Effect: Art and the Internet in the Twenty-First Century (Critical Anthologies in Art and Culture #1)
Publication Date:
October 23rd, 2015
Special Order - Subject to Availability
Description
Essays, discussions, and image portfolios map the evolution of art forms engaged with the Internet.
Since the turn of the millennium, the Internet has evolved from what was merely a new medium to a true mass medium—with a deeper and wider cultural reach, greater opportunities for distribution and collaboration, and more complex corporate and political realities. Mapping a loosely chronological series of formative arguments, developments, and happenings, Mass Effect provides an essential guide to understanding the dynamic and ongoing relationship between art and new technologies.
Mass Effect brings together nearly forty contributions, including newly commissioned essays and reprints, image portfolios, and transcribed discussion panels and lectures that offer insights and reflections from a wide range of artists, curators, art historians, and bloggers. Among the topics examined are the use of commercial platforms for art practice, what art means in an age of increasing surveillance, and questions surrounding such recent concepts as "postinternet." Other contributions analyze and document particular works by the artists of And/Or Gallery, Cory Arcangel, DIS, Cao Fei, the Radical Software Group, and others.
Mass Effect relaunches a publication series initiated by the MIT Press and the New Museum in 1984, which produced six defining volumes for the field of contemporary art. These new volumes will build on this historic partnership and reinvigorate the conversation around contemporary culture once again.
Copublished with the New Museum of Contemporary Art, New York
Important Notice: The digital edition of this book is missing some of the images found in the physical edition.
Contributors
Cory Arcangel, Karen Archey, Michael Bell-Smith, Claire Bishop, Dora Budor, Johanna Burton, Paul Chan, Ian Cheng, Michael Connor, Lauren Cornell, Petra Cortright, Jesse Darling, Anne de Vries, DIS, Aleksandra Domanović, Harm van den Dorpel, Dragan Espenschied, Rózsa Zita Farkas, Azin Feizabadi, Alexander R. Galloway, Boris Groys, Ed Halter, Alice Ming Wai Jim, Jogging, Caitlin Jones, David Joselit, Dina Kafafi, John Kelsey, Alex Kitnick, Tina Kukielski, Oliver Laric, Mark Leckey, David Levine, Olia Lialina, Guthrie Lonergan, Jordan Lord, Jens Maier-Rothe, Shawn Maximo, Jennifer McCoy, Kevin McCoy, Gene McHugh, Tom Moody, Ceci Moss, Katja Novitskova, Marisa Olson, Trevor Paglen, Seth Price, Alexander Provan, Morgan Quaintance, Domenico Quaranta, Raqs Media Collective, Alix Rule, Timur Si-Qin, Josephine Berry Slater, Paul Slocum, Rebecca Solnit, Wolfgang Staehle, Hito Steyerl, Martine Syms, Ben Vickers, Michael Wang, Tim Whidden, Anicka Yi, and Damon Zucconi