Discounted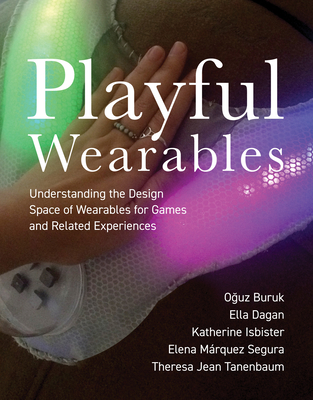 Playful Wearables: Understanding the Design Space of Wearables for Games and Related Experiences
Previous price:

$40.00
Current price:

$35.00
Publication Date:
January 2nd, 2024
Description
An expert introduction to the world of "playful wearables" and their design, with a wide range of engaging examples, case studies, and exercises.
This pioneering introduction to the world of wearable technology takes readers beyond the practical realm (think Fitbits, Apple Watches, and smartglasses) to consider another important side of the technology—the playful. Playful Wearables offers an engaging account of what "playful wearables" are, why they matter, how they work, how they're made, and what their future might hold. The book's authors draw on decades of experience in design, development, and research to offer real-world examples, exercises, and implications, showing how this kind of wearable tech can introduce an invaluable element of play into our everyday lives.
As wearable technology emerges in the ecology of costume and fashion, the authors consider its intimate connection to identity and culture. And they look at the ways in which playful wearables, when smoothly integrated into everyday social experiences, support social interaction. The book then moves on to the mechanics of playful wearables—from design strategies and frameworks to specific methods and game design patterns. All of these elements point to possibilities beyond the realm of games and dedicated play, as the value and uses of playful wearables in the larger world of self, society, and culture become ever more apparent.
About the Author
Oğuz Buruk is Assistant Professor of Gameful Experience, Faculty of Information Technology and Communication Sciences, Tampere University.
Ella Dagan is an artist, designer, and doctoral candidate at the Social Emotional Technology Lab, University of California Santa Cruz.
Katherine Isbister is Professor of Computational Media and Jack Baskin Endowed Chair in Engineering, University of California Santa Cruz, and author of How Games Move Us (MIT Press).
Elena Márquez Segura is a Beatriz Galindo Distinguished Researcher and Assistant Professor in the Computer Science and Engineering Department, University Carlos III of Madrid.
Theresa Jean Tanenbaum is an independent scholar, designer, artist, and interactive storyteller.