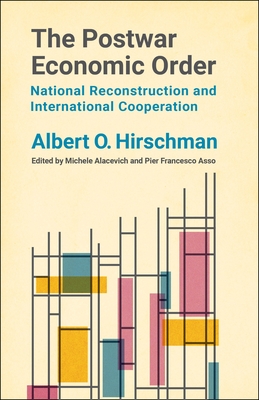 The Postwar Economic Order: National Reconstruction and International Cooperation
Publication Date:
November 22nd, 2022
Publisher:
Columbia University Press
The MIT Press Bookstore
1 on hand, as of Nov 30 10:32am
(ECON)
On Our Shelves Now
Description
Years before he became renowned as one of the most original social scientists of the twentieth century, Albert O. Hirschman played an active role in the rebuilding of postwar Europe. Between 1946 and 1952, he worked as an economic analyst in the Research Division of the Federal Reserve Board of the United States, focusing on the reconstruction of Europe and the Marshall Plan. In that capacity, Hirschman wrote a number of reports about European economic policies, the first efforts at intra-European cooperation, and the uncertainties that surrounded the shaping of a new international economic order with the United States at its core.
The Postwar Economic Order presents a collection of these interrelated reports, which offer incisive firsthand analysis of postwar Europe and give a behind-the-scenes view of American debates on European economic recovery. They feature nuanced and sophisticated discussion of topics such as the postwar "dollar shortage," U.S.-European relations, and the first steps toward European economic integration. Hirschman provides original and perceptive interpretations of the struggles that European governments faced along their paths toward economic recovery. Throughout, Hirschman's stylistic gifts and characteristic ways of reasoning are on full display as he highlights the counterintuitive and paradoxical aspects of economic and political processes. Shedding new light on the origins of European economic cooperation, this book provides unparalleled insight into the development of Hirschman's thinking on economic development and reform.
About the Author
Albert O. Hirschman (1915-2012) was an acclaimed and influential economist and social scientist. He taught at Columbia University and Harvard University, and he was professor of social science at the Institute for Advanced Study in Princeton. His best-known books include National Power and the Structure of Foreign Trade (1945), The Strategy of Economic Development (1958), Exit, Voice, and Loyalty: Responses to Decline in Firms, Organizations, and States (1970), The Passions and the Interests: Political Arguments for Capitalism Before Its Triumph (1977), Shifting Involvements: Private Interest and Public Action (1982), and The Rhetoric of Reaction: Perversity, Futility, Jeopardy (1991). Michele Alacevich is professor of the history of economics and economic history at the University of Bologna. He is the author of Albert O. Hirschman: An Intellectual Biography (Columbia, 2021) and The Political Economy of the World Bank: The Early Years (2009), as well as coauthor of Inequality: A Short History (2018). Pier Francesco Asso is professor of the history of economic thought and international political economy at the University of Palermo. He is the author of several books in Italian on topics such as the history of banking and twentieth-century economic thought.