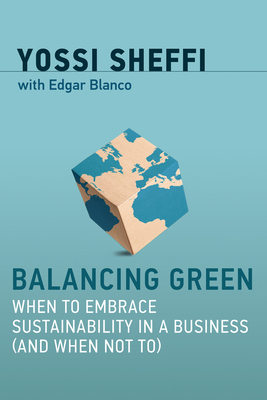 Balancing Green: When to Embrace Sustainability in a Business (and When Not To)
Publication Date:
March 9th, 2018
The MIT Press Bookstore
3 on hand, as of Nov 30 10:32am
(BUSIN)
On Our Shelves Now
Description
An expert on business strategy offers a pragmatic take on how businesses of all sizes balance the competing demands of profitability and employment with sustainability.
The demands and stresses on companies only grow as executives face a multitude of competing business goals. Their stakeholders are interested in corporate profits, jobs, business growth, and environmental sustainability. In this book, business strategy expert Yossi Sheffi offers a pragmatic take on how businesses of all sizes—from Coca Cola and Siemens to Dr. Bronner's Magical Soaps and Patagonia—navigate these competing goals. Drawing on extensive interviews with more than 250 executives, Sheffi examines the challenges, solutions, and implications of balancing traditional business goals with sustainability.
Sheffi, author of the widely read The Resilient Enterprise, argues that business executives' personal opinions on environmental sustainability  are irrelevant. The business merits of environmental sustainability are based on the fact that even the most ardent climate change skeptics in the C-suite face natural resource costs, public relations problems, regulatory burdens, and a green consumer segment. Sheffi presents three basic business rationales for corporate sustainability efforts: cutting costs, reducing risk, and achieving growth.
For companies, sustainability is not a simple case of "profits versus planet" but is instead a more subtle issue of (some) people versus (other) people—those looking for jobs and inexpensive goods versus others who seek a pristine environment. This book aims to help companies satisfy these conflicting motivations for both economic growth and environmental sustainability.
About the Author
Yossi Sheffi is Elisha Gray II Professor of Engineering Systems at MIT and Director of the MIT Center for Transportation and Logistics. He has worked with leading manufacturers and logistics service providers around the world on operations and strategy issues and is the author of three award-winning books: The Resilient Enterprise: Overcoming Vulnerability for Competitive Advantage, Logistics Clusters: Delivering Value and Driving Growth, and The Power of Resilience: How the Best Companies Manage the Unexpected, all published by the MIT Press.
Praise for Balancing Green: When to Embrace Sustainability in a Business (and When Not To)
A must-read.... A well-researched book that cuts through many of the fallacies and wishful thinking that surrounds sustainability.—Forbes—
Sustainability is a hot button issue, and Sheffi's book is likely to spur debate.
—Supply Chain Management Review—
A book that aims to help companies decide what types of sustainability efforts make sense for them from a business standpoint and what efforts do not.
—DC Velocity—
——