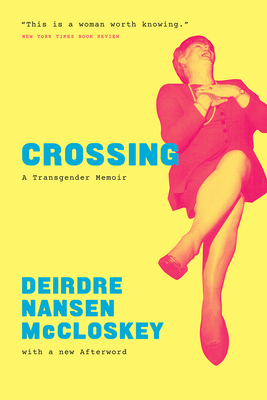 Crossing: A Transgender Memoir
Publication Date:
September 20th, 2019
Publisher:
University of Chicago Press
The MIT Press Bookstore
1 on hand, as of Dec 5 4:07pm
(SS:GS)
On Our Shelves Now
Description
A New York Times Book Review Notable Book of the Year
 
"I visited womanhood and stayed. It was not for the pleasures, though I discovered many I had not imagined, and many pains too. But calculating pleasures and pains was not the point. The point was who I am."
 
Once a golden boy of conservative economics and a child of 1950s privilege, Deirdre McCloskey (formerly Donald) had wanted to change genders from the age of eleven. But it was a different time, one hostile to any sort of straying from the path—against gays, socialists, women with professions, men without hats, and so on—and certainly against gender transition. Finally, in 1995, at the age of fifty-three, it was time for McCloskey to cross the gender line.
 
Crossing is the story of McCloskey's dramatic and poignant transformation from Donald to Dee to Deirdre. She chronicles the physical procedures and emotional evolution required and the legal and cultural roadblocks she faced in her journey to womanhood. By turns searing and humorous, this is the unflinching, unforgettable story of her transformation—what she lost, what she gained, and the women who lifted her up along the way.
Praise for Crossing: A Transgender Memoir
"This is a woman worth knowing. She has given us a highly readable, dramatic account of her crossing."
— Maxine Kumin
"A fascinating and poignant story. . . . Revealing, humorous, and provocative."
— Library Journal
"A searing tale of the traumas and rewards of gender change. . . . A powerful indictment of legal, medical, and institutional obstruction."
— Foreword Reviews
"A tautly crafted memoir of her transition from Don McCloskey, conservative Chicago school economist, to Deirdre McCloskey, power shopper, domestic superachiever, and campy doyenne of difference feminism." 
— Ruth Shalit
"A testimony to her struggles and courage, Crossing invites the reader to enter Deirdre (formerly Donald) McCloskey's mind as she decides to become a woman after a lifetime as a man, husband, and father." 
— Kirkus Reviews
"The very courageous story of someone trying to live an honest life, whatever the consequences."
— Jeannie Marshall
"That an affluent, upper-middle-class person should be so powerless against a mental-health bureaucracy still subscribing to its offical pronouncement that transsexualism is a 'gender identity disorder' makes for gripping reading."
— Booklist
"A groundbreaking memoir. . . . Mccloskey was one of those people who seemed to have everything: wide influence as an economist and the tenure to go with it, several books in print, and a much-loved wife and children. What McCloskey lacked was something so fundamental that most of us don't even think to be grateful for it: a gender identity that felt right. . . . A really fascinating perspective."
— KERA's Think