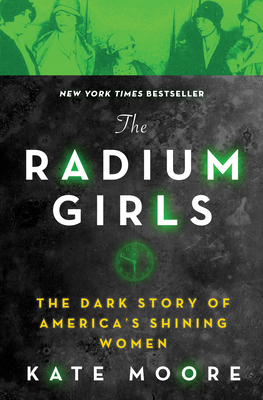 The Radium Girls: The Dark Story of America's Shining Women
Publication Date:
March 6th, 2018
The MIT Press Bookstore
1 on hand, as of Dec 8 10:45am
(GS)
On Our Shelves Now
The harrowing true story of The Radium Girls is a compelling and forthright portrayal of a dark, insidious mystery and the 'shining girls' who revealed it. Author Kate Moore takes the reader from Orange, New Jersey, to Ottawa, Illinois, following several women who work at factories that specialize in painting watch faces and instrument dials with the glow-in-the-dark wonder element radium. As these women fall ill in various and dire ways in the ensuing years, they seek answers and relief from the very companies that would deny them. In The Radium Girls, Moore, like the 'shining girls' before her, casts a bright light on these lives lost too young.
May 2017 Indie Next List
This story of the first all-women class action lawsuit is one that everyone needs to read. Moore does a fabulous job of showing these women for who they were: real people, with families and lives that were torn apart by devastating health problems caused by years of working in a watch factory, painting glowing radium onto watch dials. A heartbreaking, inspiring story of strong women who stuck together through the most horrible of circumstances.
Summer 2018 Reading Group Indie Next List
Description
A New York Times, USA Today, Wall Street Journal, and Amazon Charts Bestseller!
"The glowing ghosts of the radium girls haunt us still." —NPR Books 
Discover the gripping and inspiring true story of The Radium Girls, a groundbreaking work by acclaimed author Kate Moore. Immerse yourself in this compelling narrative that unravels the extraordinary lives of these fearless women who fought against all odds.
The Curies' newly discovered element of radium makes gleaming headlines across the nation as the fresh face of beauty, and wonder drug of the medical community. From body lotion to tonic water, the popular new element shines bright in the otherwise dark years of the First World War. 
Meanwhile, hundreds of girls toil amidst the glowing dust of the radium-dial factories. The glittering chemical covers their bodies from head to toe; they light up the night like industrious fireflies. With such a coveted job, these "shining girls" are the luckiest alive—until they begin to fall mysteriously ill. 
But the factories that once offered golden opportunities are now ignoring all claims of the gruesome side effects, and the women's cries of corruption. And as the fatal poison of the radium takes hold, the brave shining girls find themselves embroiled in one of the biggest scandals of America's early 20th century, and in a groundbreaking battle for workers' rights that will echo for centuries to come. 
With meticulous research and a keen eye for detail, Kate Moore delves into the lives of these remarkable individuals, capturing their resilience, strength, and unwavering determination. Through their stories, she exposes the shocking negligence and corporate cover-ups that plagued the radium industry, ultimately sparking a revolution in workplace safety.
The Radium Girls is a masterful blend of historical account and heartfelt tribute. Moore's vivid prose brings these forgotten heroines back to life, ensuring that their sacrifices and triumphs are forever etched in our collective memory. As you turn each page, you'll be captivated by their indelible legacy and inspired by their enduring spirit.
The Radium Girls is a must-read for history enthusiasts, feminists, and anyone seeking a remarkable story of resilience and empowerment.
Praise for The Radium Girls: The Dark Story of America's Shining Women
"Radium Girls spares us nothing of their suffering; though at times the foreshadowing reads more like a true-crime story, Moore is intent on making the reader viscerally understand the pain in which these young women were living, and through which they had to fight in order to get their problems recognized…The story of real women at the mercy of businesses who see them only as a potential risk to the bottom line is haunting precisely because of how little has changed; the glowing ghosts of the radium girls haunt us still." — NPR Books
"A perfect blend of the historical, the scientific, and the personal, this richly detailed book sheds a whole new light on this unique element and the role it played in changing workers' rights. The Radium Girls makes it impossible for you to ignore these women's incredible stories, and proves why, now more than ever, we can't afford to ignore science, either." — Bustle
"Kate Moore has dug deep to expose a wrong that still resonates–as it should–in this country. Exceptional!" — San Francisco Book Review
"Compelling chronicle of women whose work maimed and killed them while their employers, their doctors and their government turned a blind eye to their suffering" — The Seattle Times
"Written with the taut pacing of a novel, Kate Moore's The Radium Girls tells the horrifying true story of the young women who worked in radium dial factories in the 1920s and '30s...Their incredible story, beautifully told by Kate Moore, is sure to incite equal parts compassion and horror in the reader." — BookPage
"We sometimes need reminding of where health and safety came from, and why it is so very important for progress. The Radium Girls compels us to remember." — Chemistry World
"Carefully researched, the work will stun readers with its descriptions of the glittering artisans who, oblivious to health dangers, twirled camel-hair brushes to fine points using their mouths, a technique called lip-pointing…Moore details what was a 'ground-breaking, law-changing, and life-saving accomplishment' for worker's rights." — Publishers Weekly
"This timely book celebrates the strength of a group of women, whose determination to fight improved both labor laws and scientific knowledge of radium poisoning. Written in a highly readable, narrative style, Moore's chronicle of these inspirational women's lives is sure to provoke discussion—and outrage—in book groups." — Booklist-STARRED review
"Moore's well-researched narrative is written with clarity and a sympathetic voice that brings these figures and their struggles to life...a must-read for anyone interested in American and women's history, as well as topics of law, health, and industrial safety." — STARRED Library Journal
"Kate Moore vividly depicts the female factory workers whose courage led to a revolution in industrial safety standards. In describing their heart wrenching struggles and bittersweet triumphs, Moore delivers an intimate portrait of these pioneers. Uplifting and beautifully written, The Radium Girls is a tribute to the strength of women everywhere." — Nathalia Holt, New York Times bestselling author of Rise of the Rocket Girls: The Women Who Propelled Us From Missiles to the Moon to Mars
"Kate Moore's gripping narrative about the betrayal of the radium girls—gracefully told and exhaustively researched—makes this a nonfiction classic. I particularly admire Moore's compassion for her subjects and her story-telling prowess, which brings alive a shameful era in America's industrial history." — Rinker Buck, author of The Oregon Trail: A New American Journey and Flight of Passage